Details

Category: Perth Restaurant Reviews
Published: Saturday, 28 September 2013 09:00
Written by Nita Teoh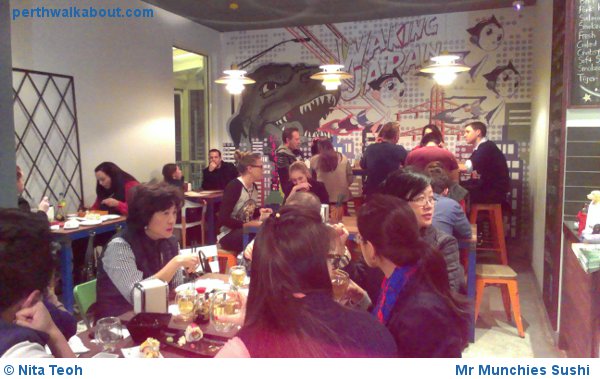 Tucked away down an arcade behind local favorites Grill'd and Gelare is a bustling Japanese sushi eatery called Mr Munchies Sushi - which has been open since October last year and has rapidly made its mark in the Mt Lawley dining scene.
The inside of the restaurant has a contemporary casual feel with low table chairs and an arty background against one wall, while the orange uniformed staff run like a well oiled machine with orders churning out to keep the hungry masses fed. On the weeknight that I popped in, the place was cooking gas, and the busiest café by far in the complex, along with Grill'd.
The Mt Lawley strip has a few Japanese eateries including the likes of Hanami for the middle end of town, Tanpopo for cheap and cheerful, and Yuku Kaiten near the Fresh Provisions and Dome Mt Lawley arcade, which provides sushi on a conveyor belt along with other main dishes.
Mr Munchies Sushi offers a fantastic range of creative sushi menu options, more than what you'll find in your stock standard sushi restaurant. Their themes include Mexican theme, Steak theme and others.
They also offer up a customised make your own sushi which is interesting. Choose a sushi or sushi salad, then load up with your favourite sushi toppings to make your ultimate to die for sushi roll or salad! This is a great idea, and allows flexibility for those who may be a bit picky with specific ingredients.
The potato cheese sushi is a little bit different and was quite tasty with a huge lashing of cheese on top, to finish off the sushi. Bento boxes are also available, including teriyaki chicken, beef, salmon, and tofu. The proportions of the main servings are reasonably sized and provide good value. We tried the salmon, beef and karaage – all were good, apart from the fact that we probably ate a bit too much…hungry appetites what can I say! A cold night in Perth, and you feel like some nice food to warm you up.
All come with a side of a couple of mini spring rolls, a small serve of karaage, unless off course, you are having the karaage bento, then you'll be inundated with a generous lashing of tasty fried chicken!
Overall, Mr Munchies Sushi gets the thumbs up from me. The food is fresh, creative and well presented, their décor is modern and funky, and the staff are friendly and efficient. Little wonder that Mr Munchies Sushi has fast become a foodie favorite among the Mt Lawley crowd.
For more Related Articles, please scroll to the bottom of this page.
If you enjoyed this article, please share it!