Details

Category: Perth Restaurant Reviews
Published: Tuesday, 24 December 2013 13:49
Written by Nita Teoh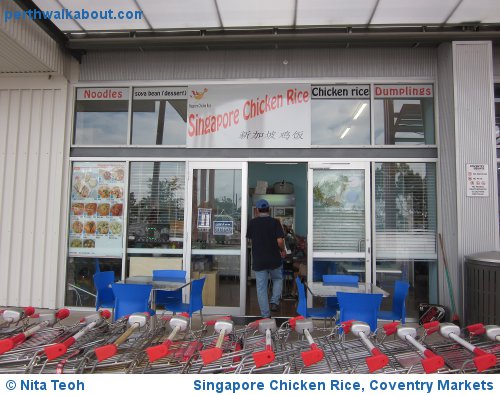 The Singapore Chicken Rice restaurant located just near the entrance to the Coventry Village Markets car park does a roaring trade, weekday or weekend. It serves up popular hawker style dishes such as chicken rice, chicken noodles, laksa, Singapore fried mee hoon, char kway teow, and fish ball mee hoon soup.
On the day that I visited with a friend, the restaurant was packed, and we had to wait for a table, though not too long though luckily. I tossed up between having the chicken rice and the chicken noodles (with wanton noodles). As it was my first time here, I decided to try the signature chicken rice. My friend and her young son also decided to have the chicken rice, as well as the laksa served with prawns, tofu, and rice noodles.
For around $10, you can have delicious fresh authentic hawker dishes served up to you. If you are new to Singapore hawker style food, I would suggest that you begin with the signature chicken rice. The plate of chicken is served with a bowl of rice, a few slices of cucumber, and the traditional chilli sauce on the side. It is a generous serving and a substantial meal for lunch. On your next visit you can always venture on to try other dishes – some dishes can be hot to the palate such as the laksa, and you can also help yourself to some sliced chilli if you are a chilli fiend.
There is seating inside the restaurant, and there is a dining area that extends towards the foyer area of the Coventry Village, along with a few alfresco tables outside. Best to get there early, as Singapore Chicken Rice is always busy due to its popularity amongst patrons to Coventry Markets!
For more Related Articles, please scroll to the bottom of this page.
If you enjoyed this article, please share it!
Nita Teoh pens her passion for Perth at Perth Walkabout. She enjoys exploring by foot and letting readers know about the hidden gems of Perth. For more insider tips on Perth and surrounds, follow us @PerthWalkabout