Details

Category: Perth Restaurant Reviews
Published: Friday, 10 August 2012 11:21
Written by Lee-Ann Khoh

Victoria Park Hotel
605 Albany Highway
Victoria Park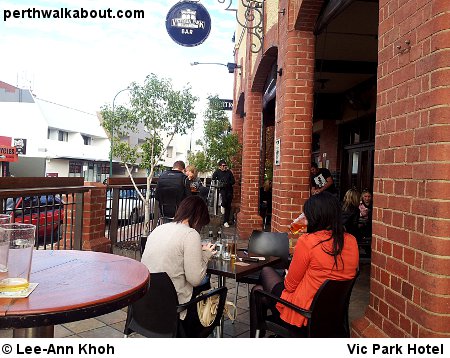 Pubs are something of an icon of Aussie culture but to be honest, I've never really considered myself much of a pub person. I guess it's because I'm not a big drinker (I've had one alcoholic beverage in the last two and a half years) which can also make me look and feel a little out of place. And thanks in small part to my Asian background, I've heard all the jokes about being unable to hold my liquor and saving money by only drinking water.
But luckily for me, pubs are increasingly more than just drinking holes, as proven during a Sunday afternoon visit to the Vic Park Hotel. Open every day from 11am to late (10pm on Sundays), the Vic Park is a cosy blend of old and new in its design and stands tall along Albany Highway where it's been in existence since 1927.
Out in the beer garden overlooking Albany Highway, people enjoy a drink, a bite to eat or a cigarette. Every Sunday, a singer/guitarist adds to the vibe outside with some cool acoustic tunes (usually from 3pm-6pm) – although the venue mercifully moves them indoors when the weather is looking nasty. There's also live music on Friday evenings and "buy one get one free" meals on Tuesday nights.
When you step inside, especially on a wintry day, you are greeted by the casual, comforting polished wood surrounds. There are four bars and a licensed restaurant to choose from. And sport. Lots of sport – from football to mixed martial arts. A young couple enjoys a game of pool while watching an AFL match on one of five TV screens; someone else plays with their child on the lounge in front of a fireplace as a boxing match plays out on the screen above. If you love to watch sports and unwind with a drink and/or meal, the Vic Park Hotel is a pretty safe bet – you can check their Facebook page for updates on what's showing each week.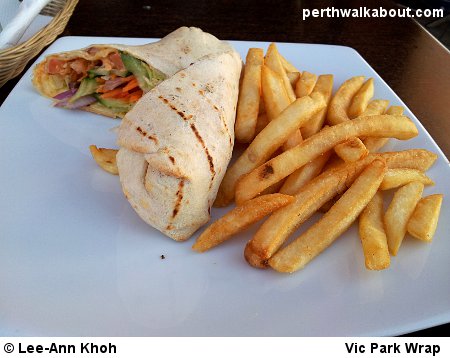 Speaking of meals, your options range from the standard fish and chips to more interesting stuff like the vegie wok ("fresh vegetables and egg noodles tossed through a tangy Asian style sauce" according to the description on the menu). I opted for something from the "light meals" section – specifically the vegetarian "Vic Park Wrap". (The Vic Park Wrap also comes in chicken or beef). It arrived in quick time; tomato, lettuce, carrot, cucumber, onion, and just enough dressing to enhance the salad mix without dripping everywhere – snugly encased in toasted pita bread. And topped off with a golden serving of chips. It was more than enough to keep me satisfied for the rest of the afternoon but people with larger appetites would likely need to stick to the mains.
I can't review the beers or wines (The pint of water and ice is always good) but the Vic Park Hotel was a great way to chill out in the company of good friends to end the weekend.
Have you been there?
How to get there:

From Perth (city) you can catch a bus from St Georges Terrace to Albany Highway.
Alternatively, get on the Armadale Line from Perth Station to Victoria Park. Cross Kitchener Avenue and walk up Duncan Street, then turn right onto Albany Highway and keep going until you reach the Vic Park Hotel.

For More Related Articles, please scroll to the bottom of this article.