Details

Category: Perth Restaurant Reviews
Published: Wednesday, 26 December 2012 10:15
Written by Lee-Ann Khoh

The Woodvale Tavern
143 Trappers Drive
Woodvale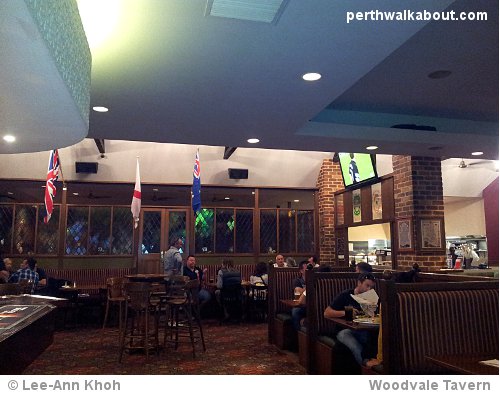 The Woodvale Tavern tags itself as "Your local British Pub in the heart of Woodvale." Having never been to an actual pub in Britain (or anywhere in Britain for that matter, but it's on my bucket list) I can't tell a newcomer from the UK how it compares to home. But many British expats choose to make a new home in the Woodvale area, which is about a half hour drive north from the Perth CBD.
"You should open a pub like this one," a friend of mine suggested at my very first visit to The Woodvale on a lively Saturday night. "It's a pretty cool pub, y'know."
Against the backdrop of a favourite cover band and a packed dance floor, I nodded; there had been a tipsy stranger who'd taken an unwelcome shine to us earlier in the evening but it had evolved into a good night out. Since then, I've made the long trek up a few more times despite living south of the river, usually to catch a band or acoustic duo while enjoying the company of friends. Naturally it's quieter during the week, growing more animated as the weekend approaches but there's live entertainment on at the tavern most days of the week – be it live music, a karaoke night, quiz night, or some other special themed event.
The Woodvale Tavern has a pretty casual atmosphere but it does look somewhat quaint when you first walk in – Flags, old newspaper prints and medieval crests hang on the walls, while stained glass and hanging lights adorn the ceilings. The beer garden out the front is a nice place to relax in the warmer months, and TV screens both inside and outside let you keep tabs on the latest sporting action.

Locals sometimes affectionately call this pub "The Moon" or "Mooners" – a reference to its former name, Moon and Sixpence Woodvale. (I prefer to use "The Woodvale" so as to avoid confusion with the Moon and Sixpence, Perth – also a British pub – in the city.) The Woodvale actually comprises three parts: the tavern, the reception centre which hosts a variety of functions, and a drive-in bottle shop.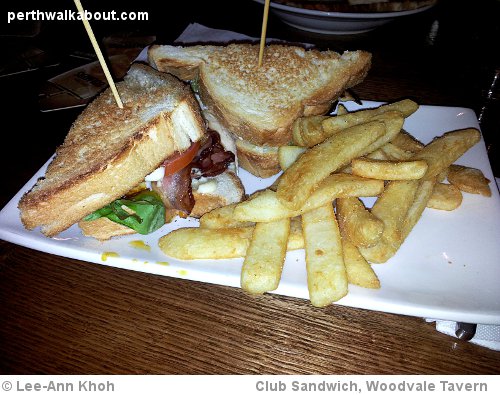 Food can be ordered from the tavern bistro. On one particular Monday evening while enjoying a friend's performance at The Woodvale's open mic night, I decided to go with a club sandwich for dinner: toasted bread with chicken, bacon, egg, tomato, lettuce, aioli and barbecue sauce giving it a slightly tangy taste. It came with a serving of chips done just the way I like them – nice and crisp on the outside, fluffy and mealy on the inside, and not too much salt. The sandwich fell apart as soon as I tried to cut it (I was attempting to be "cultured" and eat with a knife and fork – Let that be a lesson to me!) but it was enough to fill me up personally despite being in the "Light Bites" section of the menu.
My friend once said food at the Woodvale was always good no matter what you ordered. Having said that, if you have any special dietary requirements, you might not be so lucky; another friend who happens to be vegetarian was unable to find a suitable meal on the menu, with both the salad options containing meat.
There are a selection of beers, wines and cocktails on offer at the bar but being a non-drinker, there's unfortunately not much I can say about the alcohol side of things. Someone once told me he liked the Woodvale because it was one of the few places in Perth that had his favourite beer Newcastle Brown on tap.
The Woodvale is bound to be a fair distance away from a lot of people, and to be honest if I didn't have friends who sometimes perform there I probably wouldn't make that journey. But it's a good haunt for the locals and worth checking out if you get the chance. I never did open that pub... It seems a bit redundant when someone else is already doing the same thing well.
Have you been to The Woodvale? How do you think it rates as a "British pub"?
How to Get There
From Perth Station, take the Joondalup line to Whitfords Station. From there you can take the 465 or 466 bus to The Woodvale.
If you take the 465, get off at Trappers Drive after Camarino Dt. The Woodvale Shopping Centre should be just ahead of you on the right. Walk there and you should see the Woodvale's bottle shop; the tavern is adjacent to this.
If you take the 466, get off at Timberlane Drive after Lyell Grove. You should see a roundabout up ahead. Turn left at the roundabout and Woodvale Shopping Centre, where the tavern is located will be up ahead on your left.

For more Related Articles, please scroll to the bottom of this page.
If you enjoyed this article, please share it!