Details

Category: Places of Interest
Published: Friday, 16 March 2012 11:11
Written by Amy
This is a guest post by Amy at Livin' on the Road.

Four kids in Perth for a day? What should we see? I wasn't quite sure. Since 2009, we've been travelling around Australia in a caravan with our four kids, ten-year old Peter, nine-year old Susan, six-year old Lucy and three-year-old Edmund. Having only recently made it to Western Australia, this was to be our first time in the state's capital, and we weren't entirely sure what to see first.
We put it to our blog readers about what we should see, considering that we'll probably go back to Perth, but this time we only have a day. The answers came in thick and fast. Kings Park, Cottesloe Beach, Maritime Museum, Fremantle gaol, round prison, Fremantle markets, science museum, mint, zoo, ferry from Fremantle to the city, bell tower in the city, London arcade, fish and chips at Fremantle and the CAT busses were all nominated.
After a brief discussion, we headed towards Fremantle. We visited the markets briefly, walking around and admiring the array of cheap, fresh fruit and vegetables. I carried our wriggling, squirming toddler, Edmund, who just wanted to get down, seeing so many wonderful things to feel and touch. The kids chose a piece of fruit each to munch on as we walked around the market, and once they'd finished we headed up towards the Fremantle Gaol.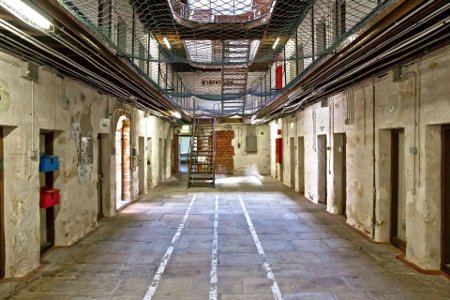 Fremantle Gaol
Photo Credit: Livin' on the Road


The Gaol was special for our nine-year old daughter, Susan and ten-year-old son Peter, who both love history. The heat of the day seared down, and we all felt sympathy for the prisoners who must have endured such heat without the option of heading into the shade. It seemed a really harsh gaol, and we were shocked to hear that it has been only just over 30 years since it closed. The tour guide was full of stories and information, and kept us both fascinated and amazed at the things that had happened in the gaol. It was so interesting that we would have loved to have done some of their other tours, and have it on our 'to do' list to return to the gaol on another visit to Fremantle.
That evening, we relaxed on Fremantle's foreshore and ate fish and chips. The famed Fremantle Doctor failed to pull through for us, and person after person hurried to tell us how unusual the weather was. "It's usually not humid," and "The doctor usually comes through mid- to late- afternoon, and then the temperature is so lovely," but on this particular day the heat lingered. It was lovely sitting there, watching the waves gently coming up over the sand as we ate our fish and chips.
"Mum, Dad, can we please go to the zoo today, before we leave Perth?" The kids started as soon as breakfast was over. After having spent every day for the month of November walking around the three Adelaide zoos, my husband wasn't about to head back to another zoo. Knowing that, as South Australian zoo members, we could get in to the zoo for free as reciprocal access, it still didn't help negotiate a trip to the zoo.
Instead, we headed to Kings Park. We had coffees, and the kids shared very expensive iced chocolates at the café, over looking the Swan River. It seemed idyllic, and not so much like the hustle and bustle of city life that we try to avoid. We were all slightly reluctant to move, until nine-year-old Susan realized that she had put her camera down and now didn't have it. We ran around re-tracing our steps, until we found that someone had actually found it and handed it in at the information bureau. It always amazes me how thoughtful and honest most people are, and even in a city, we were blown away by the kindness of a stranger, who we couldn't even thank.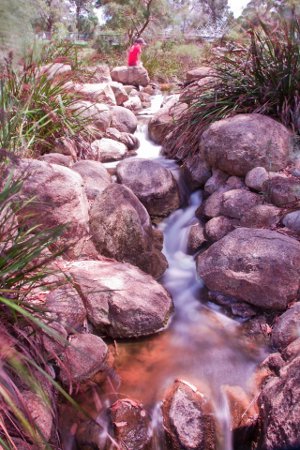 Waterfall, Kings Park
Photo Credit: Livin' on the Road


Kings Park was such a beautiful place to walk. The running water falls, the foot bridge, the plants, the green lawns and the plants, all accompanied by so many signs that we were constantly having to stop to read more and more information. It definitely is a must see destination, and I would go so far as to say that no trip to Perth could be complete without a visit to Kings Park...even without kids, but particularly with them.
As we headed out of the city and back towards our caravan, it was recommended to us by a reader that since we loved Kings Park, we should definitely see Whiteman's Park. Now we have yet another place to add to our rather long list of things we must see when we next return to Perth.
Amy and Jarrad have been travelling around Australia since 2009 in a 22' caravan with their four kids, now aged 10, 9, 6 and 3. They tend to spend a lot of time off the beaten track, and home school their kids as they travel. Jarrad is a photographer and electrician, while Amy is a naturopath and pharmacist, and they fund their travels by working in their professions. You can find more about their travels on their family travel blog, Livin' On The Road or photography at Wandering Photographer.

For Related Articles on more activities and things to do with kids in Perth, please scroll below.