Details

Category: Places of Interest
Published: Wednesday, 16 May 2012 11:46
Written by Julie Bowman
Perth is so much more than just a stopover city and offers some of the very best attractions Australia has to offer, without the crowds of Sydney and Melbourne. Sure, you can still explore the usual restaurants, tours and attractions but why not make your trip so much more fulfilling by adding a few unusual activities to your schedule;
Whale Watching
The chances are that your home town or city probably doesn't have that many whale watching opportunities nearby, especially if you hail from Europe. There are several companies in Perth that offer whale watching trips, many aboard a luxury charter. The Mills Charter trip is a three hour journey that departs from Hillarys Boat Harbour and offers a guarantee that you will see whales – or you get your next trip free! You'll be able to watch the whales as they pass by Perth as they swim south towards the Antarctic waters during September to December. Species you'll be able to spot include the Humpback Whale, Southern Right Whale and the mighty Blue Whale, the biggest whale on the planet which can grow to 100 feet long and 130 tonnes.



Grape Vineyard
Photo Credit: Wikimedia/Sanjay Acharya


Swan Valley Wine Cruise
Australia is well known across the world for outstanding wines, as the rainfall, land and region makes it perfect for wine production. So, while you are visiting Perth, make sure you take the opportunity to try some of the local wines. Make it so much more interesting than just sitting in a bar all day; get out and about by combining wine tasting with local sightseeing. Try the Swan Valley Wine Cruise which takes you on an indulgent seven hour pleasure cruise up the Swan River, visiting various vineyards along the way. Try the wines of the month, sample the wines produced at the local wineries and try a sample at a local microbrewery too. Just try not to overindulge as you'll still have to hop on and off the boat en-route!
Pinnacles Desert; Koalas and Sandboarding 4WD Adventure
If you have a spare day to kill and are looking for a little adventure and excitement, then try the ultimate desert, sandboarding and 4 wheel drive experience. During the 12 hour adventure, you're able to surf the desert on sandboards and navigate the vast open expanses aboard 4WD vehicles, testing your driving prowess. You can also meet the native animals, such as the koala; a little clichéd yes but it needs to be done!
Swim with the Dolphins
Dolphins are one of the most intelligent animals on the planet, plus they are incredibly friendly. For a memorable experience you must try swimming with the dolphins at Rockingham, which is just a 40 minute drive outside of Perth. From swimming to petting, the whole family will remember their time with these amazing aquatic creatures.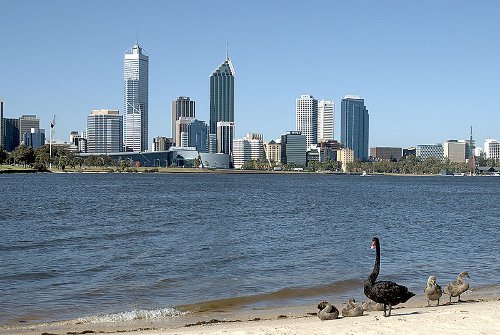 Black Swans on the Swan River, Perth, Australia
Photo Credit: Wikimedia/Nachoman-au


Indigenous Heritage Tour
Long before the British decided to use Australia as a colony for convicts, the indigenous tribes of Australia calls the continent home. There are still tribes that live throughout the country, although most are pushed either towards the center of the continent, or have begun to adopt the new culture around them. Be respectful, dress appropriately and seek permission before you take photos or video. You'll learn how bush plants have been used for medicine and food for many years by the tribes people and you'll see the traditional tools and ways to make fires.
Surf School
There is excellent surf to be had in Perth, so whether you are an expert surfer or just looking for a few lessons, you can try your hand at surfing through the guidance of an instruction at the surf school in Perth, Australia. Close to the city keen surfers can check out Scarborough, Trigg and City Beach. The area can be crowded though so also consider heading an hour north to Lancelin and Yanchep which is great for all levels. Surfing when in Perth just has to be tried!
About Julie; I Iove independent worldwide travel and on my recent Vietnam holidays I loved immersing myself into the local culture, trying the local foods, visiting unusual local sights and bringing plenty of mementoes home!

For more Related Articles, please scroll to the bottom of this page.