Details

Category: Services
Published: Wednesday, 15 August 2012 11:50
Written by Nita Teoh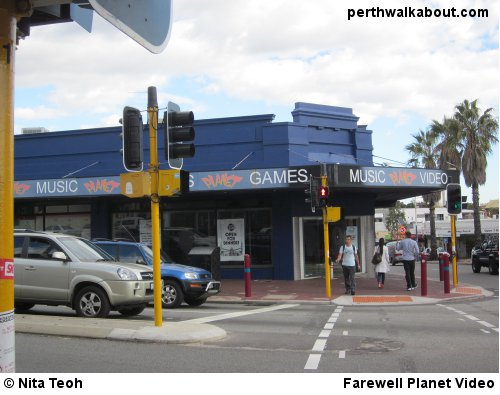 Planet Video
636-646 Beaufort Street, Mt Lawley


Farewell to Planet Video…the iconic video shop located on the corner of Walcott and Beaufort Street in Mt Lawley that was a film fetishist's delight, with a range of mainstream and off-beat films to suit all tastes.
If Mount Lawley is in your neck of the woods and you frequent this happening café strip, you might have noticed that all was not well on the corner of Walcott and Beaufort Street. Alas, we have to report the sad news that Planet Video has officially closed.
A Mt Lawley icon for decades, "Planet Vid" has served the community of Perth with a fantastic range of movies – timeless classics, international festival films, cult classics, Asian, sci-fi, manga were amongst the many alternatives – whatever your favourite genre of film, you were pretty much guaranteed to be able to find it at Planet Video. And if by chance you got slightly lost in the aisles in your quest to find the perfect movie to rent, it usually wasn't a drama to get a knowledgeable and friendly staff member to hunt it down. As well as movies, they also offered an interesting mix of collectibles, movie memorabilia, cult DVDs, unique gifts and clothing in case you felt like a quick browse in the wee hours of the night.
An era has come and gone. I have fond memories of visiting Planet Video over the years, and of taking out movies that have expanded my repertoire of film appreciation. On a brighter note, the Daily Planet Café a few doors down is humming along nicely, and some of the merchandise that was sold at Planet Video has found a new home at Planet Music, upstairs from the Daily Planet Café. In keeping with fine tradition, Planet Music offers up an eclectic mix of CDs, film, t-shirts, posters and books, as well as a ticket booking service for independent shows and gigs around town.

Planet Video may be gone, but the Planet Vibe is still going strong!

For more Related Articles, please scroll to the bottom of this page.