Details

Category: Specialty Food and Drinks
Published: Wednesday, 16 January 2013 12:14
Written by Nita Teoh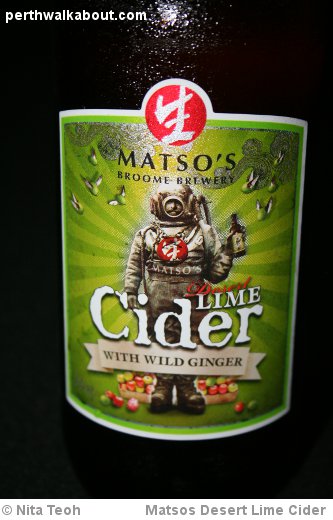 Note: A special thanks to Matso's for their assistance with this review.


Broome…..laid back and balmy, a great escape during the winter time in Perth or anytime really. If you're looking to quench your thirst, then make sure to visit the Matso's Brewery for their range of ciders and beers. A visit to Broome wouldn't be complete without tasting the range of brews that this family owned company crafts.
At Perth Walkabout, we are always on the hunt for those special locally made products which are a real treat to the senses….whether to the taste buds, eyes, or palate, you name it. And when we do discover them, we are over the moon.
Speaking of the moon, unfortunately I'm not able to get to Broome at the moment to enjoy the Staircase to the Moon, the spectacle of an illusory staircase over the mud flats of Roebuck Bay that can be viewed from March to October each year on certain nights.
While I can't visit Broome right this minute, I am still lucky because in Perth there are some special products that I can indulge in- like Matso's Ginger Beer - to remind me of all the great things about Broome that I enjoy.
I first set my eyes and taste buds on Matso's ginger beer at Clarence's Bar. Perth is fast gaining a reputation for excellent bars and specialty bars are popping up all over the place, many serving up some great hand crafted ciders and beers.
I have a bit of a fancy for ginger beer but have never really found my ideal ginger beer…something not too sweet, with a proper ginger taste, and which is refreshing and light on the palate.
Matso's ginger beer and ciders are great for someone like myself – a drink that goes down easily, is not too sickly sweet, and with a low alcohol content of around 3.5% to 4%. Add some ice cubes and a tall glass and I'm off and running with a very refreshing drink to quench my taste buds for the summer (or any other time!).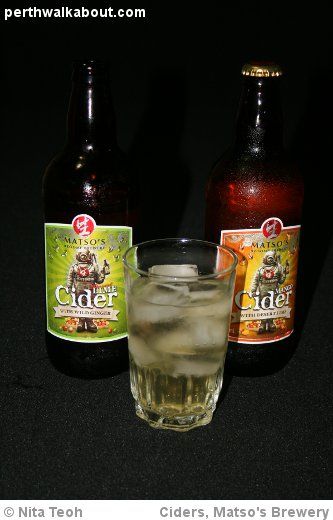 Matso's has recently put out a new range of ciders. Recently, I had a taste of their latest offerings fresh off the press – their desert lime cider with ginger, and their mango cider with desert lime. The desert lime cider with ginger was interesting – I could taste the usual Matso's signature ginger beer flavour, along with a slight hint of lime, blended with the refreshing flavours of apple cider. I think the combination of these flavours makes for a really great taste, a bit different from some of the other run of the mill ciders that you get.
The Matso's mango and desert lime cider was thirst quenching and light to taste. I found the hint of mango to be just right, the taste is there without overpowering the cider flavour. A perfect accompaniment to the Matsos mango cider would be some salted cashews or your favourite tapas dishes.
Now all that I need to do is somehow find a way to get up to Broome so that I can get more of this good stuff. I can already imagine myself up in Broome….walking along Cable Beach, soaking up the fresh beach air and ambiance while sipping a cider, or lying on a deck chair enjoying the views, glass in hand.
If you should be so lucky as to visit Broome and are looking for things to do, do yourself a favour and pop in to Matso's Broome Brewery to quench your thirst with their locally crafted beers and ciders.
For more Related Articles, please scroll to the bottom of this page.
If you enjoyed this article, please share it!