Details

Category: Sports & Recreation
Published: Wednesday, 29 February 2012 12:14
Written by Vicki Sly
Most Australian kids grow up with their own goggle and snorkel set, and have an appreciation for the underwater world that surrounds this vast state of ours.
My diving experience has never gone beyond snorkelling so whilst researching material for this article I was surprised to learn just how many dive sites there are in Western Australia for both the novice and the more serious adventurers, river and ocean included.
If you are only in Perth for a short visit and would like to take a look underwater Down Under, there are a few local and easily-accessible options close to the city starting with the Swan River.
Some of the suggested locations along the river for sheltered dives, or for the brave, night dives, are the Coombes, Bicton Baths, Scout Hall and Blackwall Reach. Some of the creatures you may encounter include crabs, prawns, fish and the occasional dolphin.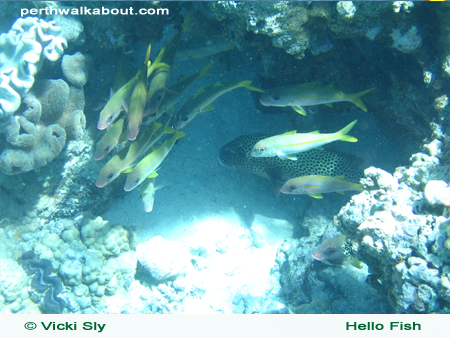 Heading out ocean side, popular spots along the Perth coastline include the artificial reef at Cottesloe, Robb's Jetty, Ammo Jetty, Woodmans Point and the lovely Mettams Pool just north of Trigg Beach which is a great snorkelling spot for families and beginners. Rockingham in the south also has a ship wreck – the SS Orizaba – which is ideal for novices.
If you travel over to Rottnest Island off the coast of Perth, there are a host of dive sites ranging from the calm bays for beginners to a shipwreck trail that numbers 14 wrecks, complete with information plaques on the ocean floor, for the more adventurous to explore.

If you plan on spending more time exploring the waters around WA, there are great sites further afield, both north and south. I have listed some suggestions from the top of the state to the southern tip.
Ningaloo Reef
World-renown Ningaloo reef is a fish bowl for all ages, beginner or advanced. You can wade in from the beach or take a boat ride out over the pristine reef for more advanced dives.
Abrolhos Islands, near Geraldton
Home to the WA crayfishing industry, the Abrolhos has 54 shipwrecks on offer, including the historic Batavia which was shipwrecked on her maiden voyage and is a tale of maritime mutiny bound to put a chill in any diver's spine.
Bunbury
Only 1.5 hours south of Perth you will find the shipwreck Lena. It sits three nautical miles from the coast and is easily accessible. The ship was apprehended by the Australian Navy in 2002 while fishing illegally for Patagonian Toothfish.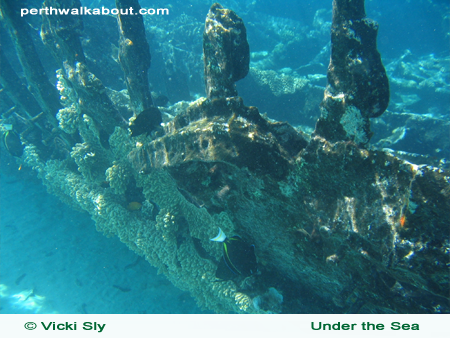 Busselton
Busselton Jetty Underwater Observatory allows visitor to take a look at underwater marine life and coral without even getting their feet wet. The jetty is still a great place for divers and has been described as Australia's greatest artificial reef, playing host to tropical and sub tropical corals, sponges, fish and invertebrates.
Dunsborough
Just south of Busselton is Dunsborough which is home to the biggest purpose-sunk shipwreck in the Southern Hemisphere – the HMAS Swan. The ship was sunk in 1997 after 26 years of naval service. Accessible via diver charter, this wreck is for the more adventurous of spirit.
Albany
Head to the Southern Ocean and you will find Cheynes III which is an old whale chaser that is reportedly littered with soft corals, sponges, and countless colourful reef fish. Albany waters are also home to HMAS Perth, an ex-missile detector which sits upright in 35 metres of water in King George Sound.
Esperance
Sanko Harvest is the biggest diveable wreck off the Australian coastline and rated one of the best dives along the Western Australian coast for advanced divers. Accessible via charter boat.
If you have a favourite dive site in WA that you would like to share then we would love to include it on our list.

Add your comments below.

For more Related Articles, please scroll below.