Details

Category: Sports & Recreation
Published: Sunday, 23 August 2015 08:53
Written by admin2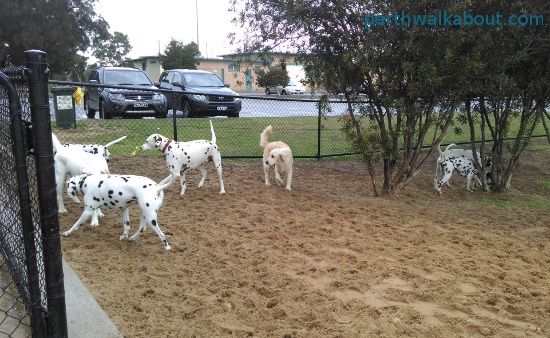 Are you looking for the locations of dog parks in Perth?
If you have a dog in Perth, you may be on the lookout for the locations of enclosed or fenced dog exercise parks to take your pooch for some exercise and socialisation.
Here are some of the enclosed dog parks in Perth that we know about that you can bring your dog to for some exercise:
Inglewood Dog Park, Mt Lawley
One of the few enclosed dedicated dog parks in Perth – dog owners from far and wide around Perth bring their dogs to the Inglewood Dog Park in Mt Lawley to have a good run around and exercise, and to socialise with other pooches.
Entry into the park is double gated and there is a gazebo at the entrance which is especially handy for some shelter for dog owners on rainy days.
The dog park has a high perimetre fence around, and facilities include a grassed area, water station, and a few obstacle course stations. The couple of agility stations include a gently sloping up and down ramp, and another with steeper ramps.
The Inglewood Dog Exercise Area is located at Inglewood Oval, closest corner is Central Ave and Stancliffe Street, next to the Edith Cowan University (ECU) Lawn Bowls club.
Access is off Central Ave - look out for the street sign "bowling club" for the turn off from Central Ave into Stancliffe Street. The other landmark to look out for are the Mt Lawley Tennis Club courts, located across the turn off into Stancliffe Street from Central Avenue.
Coffee alert – during weekdays, grab a coffee and snacks from the Chatterbox café located near the ECU Village student accommodation apartments at 2 Bradford St, or from Aroma café on campus at the University – an easy 5 minute walk from the Inglewood Exercise Park.
Hamer Park, Mt Lawley
Hamer Park is not an enclosed dog park, but worthwhile mentioning, since it is just a short walk from the Inglewood Dog Park, and is well frequented by dogs and their owners.
The park is well used for sporting activities, football and cricket, the children's playground, and a walking path that goes around the circumference of the park.
Hamer Park can be easily accessed to car park areas via Second Avenue, Mt Lawley from the residential suburb side or Woodsome Street, on the Mt Lawley high school side.
Jack Marks Park, Highgate
The Jack Marks Park located on the corner of Broome and Wright Street in Highgate is an enclosed dog park that attracts many local dogs in the area during the weekdays and is popular on the weekends. Dogs of all sizes frequent this park, though due to its location with a significant number of apartment dwellings in the area, and the low fence around its perimeter, it tends to attract a greater number of smaller dogs.
Coffee Alert - Caffeine fix tip for dog owners - a short walk will take you to the corner café tucked in the burbs at Lincolns 102, at 102 Lincoln Street in Highgate for a coffee and a good range of snacks, breakfast and lunch menu items. Note that Lincolns 102 café is closed on Mondays.
Other dog parks in the Perth area that are further away from inner city Perth and are located in the northern and southern suburbs of Perth and in the Swan Valley are:
Coolamon Dog Park, Ellenbrook Dog Exercise Park (Northern Suburbs)
The Coolamon Dog Park is located off Westgrove Drive in Ellenbrook within the City of Swan. It is a fenced off area in the north eastern section of Coolamon Oval accessed via double gates.
It is a well frequented enclosed dog park with ample space for your pooch to have a good run around and get some exercise.
Peace Park, Parmelia (Southern Suburbs)
Peace Park in Parmelia, on the corner of Parmelia Ave and Sulphur Road within the City of Kwinana offers 2 separate exercise areas, one for small dogs and another for bigger dogs. The enclosure offers a high fenced area via a double gated entry and within the exercise area there is a water station and a few obstacle ramp courses. Outside the dog exercise area, there is a grassed area with a bbq facility and a shelter for picnics.
Whiteman Park Dog Park (Swan Valley area)
Whiteman Park offers 2 dog enclosed areas, one area for smaller dogs, and another for larger dogs. It is open daily from 8.30am to 6pm, with double gated access at the entry, water station facilities, and an obstacle course within the dog exercise area.
Besides the dog park, Whiteman Park is a recreational park and extensive conservation reserve covering 4,000 hectares with many facilities and trials on offer for a good day out and about Perth.
Access to Whiteman Park is via Lord Street or Beechboro Road, Whiteman. Head to Car park 23 located in the Mussel Pool East precinct.
Do you know of any other dog exercise parks in Perth?

We'd love to hear about any other dog parks in Perth that are enclosed or fenced to take your dog to exercise at.
Please add your comments below.
If you enjoyed this article, please share it!


To get the insider's perspective on places to visit around Perth, follow us @PerthWalkabout