Details

Category: Sports & Recreation
Published: Wednesday, 23 November 2011 09:21
Written by Vicki Sly
We are lucky in Western Australia to have a lot of space around us and a city that is filled with playgrounds for children to run free.
Whether it is holiday time or you just need the kids to get outside for a breath of fresh air, playgrounds are a fun and free way to entertain the family.
It would be safe to say that most suburbs in Perth have a large number of playgrounds to choose from, including the city centre. You may have your favourite and if so, we would love to here all about it.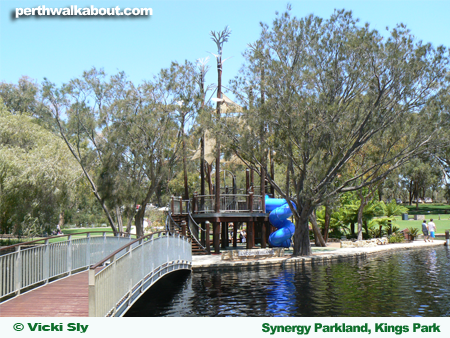 Here are some playgrounds that have been favourites in my family in the past and that you may want to consider the next time you are looking for some kid-friendly activities that won't break the bank and will give you a break at the same time!
Let's start at Kings Park which is located on the western edge of the city centre. Along with a thousand acres of parkland to explore, the park has some wonderful playgrounds for active kids.
I think it may be important also to mention here that many of these playgrounds also cater for parents, not with bigger swings and slides but with great cafes - and that means takeaway coffee nearby!
First on the list is the Lotterywest Family Area located just off Kings Park Road and includes the Ivy Watson Playground and Stickybeaks. The playground has a range of fantastic play equipment for one to five year olds, all covered from the sun by huge shade sails.
The café is within the fenced area and overlooks the playground so it's a win-win for parents and kids. The area just outside the fenced playground has larger pieces of play equipment, including a giant climbing frame for the bigger kids who are brave at heart and up for a challenge.

Synergy Playground is also located within the boundaries of Kings Park and is the first environmental playground of its type in Australia. It is aimed at the six-year plus age group and features large-scale replicas of dinosaurs. It also boasts elevated walkways, a tiered island fort, fireman's pole and an opportunity for children to lose themselves in the past as they follow dinosaur footprints and dig for fossils.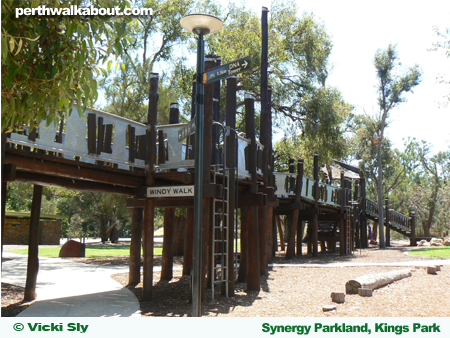 If you head west towards the ocean and the Floreat Beach foreshore you will find a lovely playground under shade sails and a grassed area with picnic tables and barbecues. Nearby is a kiosk serving coffee and gelato ice-cream for the warmer months.
Floreat is just one of the many Perth beaches that have wonderful playgrounds on grassed areas for when the sand might be just a little too hot for small feet to play on. Most of them also have shade sails to keep the sun off. Beach foreshores worth visiting include Coogee, Cottesloe, City Beach, Scarborough, Trigg and Mullaloo.
Head east to the City of Bayswater and where my children surely explored all of the 100 playgrounds housed in this large suburb. Riverside Gardens, located on the Swan River at the end of King William Streets, is huge and has a wonderful playground with shade sails, fencing and rubber soft fall. There are also picnic tables, barbecues, toilets and a big grassed area for kicking the ball around.
There are definitely too many playgrounds to mention here but perhaps you have a family favourite that you would like to share with Perth Walkabout readers. If so, we would love to hear about it. Please add your comments below.