Details

Category: Perth Personalities
Published: Wednesday, 27 February 2013 12:42
Written by Nita Teoh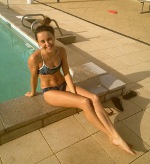 With our beach culture in Perth, swimming is a popular activity for most of us, whether it is at our local pool, the Swan River or the ocean. I got together with Dominique Pratt, TV presenter for the Home in WA lifestyle program, to chat about her swimming career and life in Perth over a cup of tea, thus combining two of Dominique's favorite passions - swimming and tea!
Dominique provides inspiration to others to live a healthy lifestyle and is certainly a fantastic role model when it comes to keeping active every day - not a day goes by without Dominique making time out of her hectic work schedule to have a swim at her local pool.