Details

Category: Travel in WA
Published: Wednesday, 12 October 2011 12:36
Written by Vicki Sly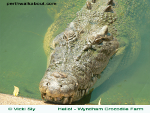 Of all the dangerous animals that exist in Western Australia (WA), the crocodile has to be one of the most feared yet revered on the list.
Maybe it's the fact that the crocodile dates back 240 million years and has outlived dinosaurs, or simply because it is so big and scary and has absolutely no fear of humans, but whatever the reason, people love to look at them.
Visitors to Perth can see them at the zoo but for those planning on travelling further north, there are crocodile farms in Broome and Wyndham. The Kimberley region in the far north of the state also offers the opportunity to see the crocodile in its natural environment, if you are game!