Details

Category: Travel in WA
Published: Wednesday, 21 March 2012 12:25
Written by Johanna Castro
This is a guest post by Johanna Castro of The Zigazag Mag.
Less than two hours from Perth travelling south on the Kwinana Freeway is a place known as the City of Three Waters. Bunbury is surrounded by water, situated on a peninsula that's circumferenced by the surf of the Indian Ocean, the calmer waters of Koombana Bay and the shallow waters of the Leshenault Estuary.
Tourists and travellers are often pleasantly surprised by Bunbury, finding that it's very different to how they had probably imagined.
A City, A Port or a Tourist Destination?
It's true that Bunbury can't quite decide whether it's an industrial city, a port or a tourist destination but it does offer the best of everything; from the buzz of city life and shopping outlets which supply everything you could ever need, to quiet beaches and serene forests where it's possible to forget that the busy metropolis even exists.
Bunbury's popularity as a tourist port is also growing. Approximately 10 large cruise ships visit each year, including large ocean liners such as The Dawn Princess and The World. Passengers can often be heard remarking how easy it is to get around Bunbury, and how interesting the boutiques and stores are along Victoria Street, which is also known as Bunbury's cappuccino strip due to the number of al fresco cafes and restaurants to be found along here.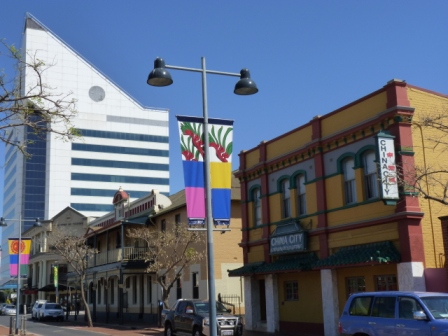 The Old and The New, with Bunbury Tower Dominating
Photo Credit: Johanna and David Castro


Iconic Buildings
Not content with merely being a shopping destination, Bunbury also lays claim to some iconic buildings such as the Bunbury Tower, fondly known as The Milk Carton which stands almost in the centre of the city and can be seen from miles around. I've often thought it resembles a hedgehog with two enormous eyes, but maybe that's just my wild imagination. Like many aspects of Bunbury, local residents have their own strong feelings about its design; some love it, others hate it, but what's certain is that you can't miss it.
The Sailing Club is another good example of Bunbury's diversity – this time Bunbury's friendly nature. If you expect a gin and tonic brigade of captains in blazers, coiffed galley wenches in chic nautical stripes and a mammoth amount of conventions to learn, then think again. You'll more likely be offered a cool beer in the clubhouse by a casually dressed sailor who'll ask if you're doing anything on a Wednesday evening.
As the sun starts to set over the harbour in this magnificent setting, you will most likely respond, "I'm not," because you'll be keen to experience the Wednesday night twilight sailing, a casual introduction to this spectacular sport to which people from all walks of life are welcome.
Heritage Trail
If you're after history and heritage, then Bunbury has it in spades. Grab a Bunbury Heritage Trail map from the Visitor Centre and walk the 12km loop which will take you to 50 places of interest ranging from historic hotels, and old buildings with interesting architecture such as the turn of the century Old Railway Station (now the Visitor Centre), as well as along fabulous walks along the coast and inlet.
Perhaps visit King Cottage Museum which is a typical country residence with wide verandahs that was built around 1880. Recreating various periods in local history the rooms display old fashioned garments, furniture, and artefacts.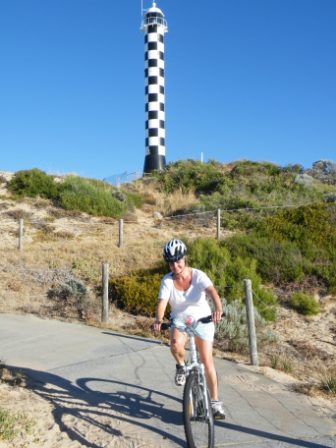 Wonderful Walk and Cycle Trails, Bunbury
Photo Credit: Johanna and David Castro


Bunbury Lighthouse
Walk along the Marlston Waterfront, past the bustling cafes and restaurants and you'll come to Jetty Baths, a great beach for families and children. And from there it's just a short hop and a skip to Back Beach where the surf can be great - oh, but don't forget to look back and upwards to glimpse the striking black and white chequers of the Bunbury Lighthouse which dates back to 1959.
You might be heading south to Margaret River or Dunsborough or Pemberton, but it's a bit of a shame to bypass Bunbury. Treat yourself to a meal on the waterfront, visit the Big Swamp Wildlife Park with your children, go for a walk and then get up close and personal with Bunbury's dolphins.
There are about 120 bottle nosed dolphins that live in Koombana Bay, so visit the Dolphin Discovery Centre where there's lots to do and find out, then perhaps book a boat trip, or wade into the shallows to commune with these friendly creatures.
At the end of the day, you might be surprised by how much there is to see and do in Bunbury, Western Australia's third largest city.
Johanna Castro is a veteran travel writer who's written for more than 40 publications worldwide. Her personal blog, The Zigazag Mag is all about travel, lifestyle, writing, blogging and life in Western Australia.

For more Related Articles on Places to Visit in WA, please scroll to the bottom of this article.