Details

Category: Travel in WA
Published: Friday, 30 September 2011 10:17
Written by Vicki Sly
There are literally thousands of places to camp in Western Australia, ranging all the way from 'roughing it' in the bush to glamping.
For those of you new to this term, it means camping with all the luxuries of home like electricity, heating and fine food.
The key to a successful camping trip is to work out what type of experience you are after and be organised. Be very, very organised – because let's face it, there is nothing glamorous about camping if you forget to take the matches to light the only fire you have to cook on.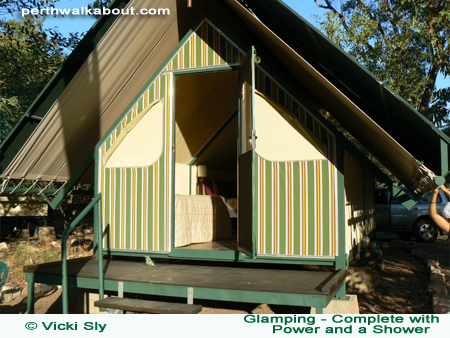 Some of my friends refuse to camp; they just don't see the point in packing up everything and moving to another location for a weekend, unpacking, packing up again and then unpacking to clean it all up.
I say they are missing the point!
Camping is all about being at one with nature, taking a break from life's routines and exploring a new part of the countryside that you have never seen before – or revisiting one of your favourite haunts.

If you plan to take a camping break away from Perth then firstly you will need to consider if you want to camp at a national park, caravan park or private camp area like a cattle or sheep station.

Even within these choices there are more choices to make in terms of, do you go the full natural experience with no power and no drinking water (you must bring your own) or do you choose a camp site that has the option of power, showers and a general store?
If you plan on taking your dog with you, this may also determine where you choose to camp as no dogs are allowed in national parks but many camping grounds accept them under certain circumstances.
Following are three suggestions for national parks that are an easy distance from Perth and well worth considering if you are a camper and not a glamper:
Avon Valley National Park
This national park is approximately an hour east of Perth and contains four campgrounds: Valley, Bald Hill, Drummonds and Homestead.
Here in the park, the Avon River has carved its way through hundred of hectares of forest and during the winter months, it can have fast-flowing rapids. Each year in August, hundreds of people compete in the Avon Descent which is Australia's most famous white-water event and possibly a good time to avoid the area if you don't like crowds.
Please note that no camping is allowed between December 1 and March 31.
Lane Poole Reserve, near Dwellingup
Head about 90 minutes south of Perth on the South Western Highway and you will come across this reserve which contains nine campsites set amongst the forest.
Recommended activities to do include: birdwatching, bushwalking, fishing, kayaking, mountain biking, four-wheel driving, horseriding and swimming.
Yalgorup National Park
Located about 20 minutes south of Mandurah and approximately one hour south from central Perth, Yalgorup is a great destination for nature lovers, birdwatchers and walkers. It is also on the coast so a must if you love to fish or swim.
Yalgorup is also famous for its thrombolites, reef-like structures that provide an insight to one of the earliest forms of life on earth.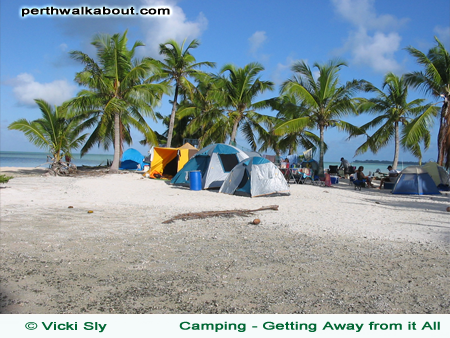 If you are considering heading bush, here are some of my favourite quotes related to camping.
It always rains on tents. Rainstorms will travel thousands of miles, against prevailing winds for the opportunity to rain on a tent. - Dave Barry, US author and comedian.
Some national parks have long waiting lists for camping reservations. When you have to wait a year to sleep next to a tree, something is wrong. - George Carlin, US comedian.
Camping: The art of getting closer to nature while getting farther away from the nearest cold beverage, hot shower and flush toilet. - Author Unknown
Do you have a camping story to share? Add your comments below.