Details

Category: Travel in WA
Published: Wednesday, 24 April 2013 07:44
Written by Nita Teoh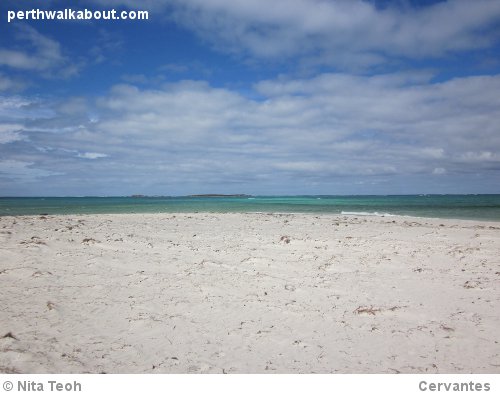 Cervantes is a beautiful, laid back town north of Perth, where the sun shines most days, and where the crystal blue water entices you to have a swim. It's an easy 2 hours drive along the Indian Ocean Drive and makes for a perfect weekend getaway from Perth.
The Indian Ocean Drive was put in around September 2010, and cuts travelling time significantly from over 3 hours to under 2 hours. It's straight up Mitchell Freeway, through the modern Joondalup township, then onto Wanneroo Rd, then Lancelin Drive, to take you onto the Indian Ocean Drive.
Along the drive to Cervantes, Yanchep, Seabird and Ledge Point all make good stop off points for a break, morning tea or a visit to a local attraction. Those who have an interest in astronomy will want to pay a visit to the Gravity Discovery Centre in Gingin.
Cervantes is a great base for sightseeing if you have the Pinnacles on your to do list. I would definitely add the Pinnacles and Cervantes to your bucket list of things to do in Perth. They can be done as a day trip, though if you've got extra time, it's a really great spot to unwind for a few days to take in the laid back style of the town and what the surrounding areas have on offer.
The Pinnacles Desert within the Nambung National Park offers visitors the opportunity to view a unique landscape of limestone with formations that date back thousands of years. You can choose between a 4 kilometre self drive tour through the Pinnacles, or a self walk with vantage points at the Desert View lookout. The Nambung National Park itself stretches across a large expanse of nearly 20,000 hectares.
The Discovery Centre is worth popping into to learn about the fascinating ecology and history of the Pinnacles area. Was it a Tuart forest or tree roots that formed the Pinnacles thousands of years ago? Ecologists are still pondering the question.
It is recommended to view the formations in the late afternoon or early morning, though any time of the day is good so don't stress if you can't get there during the recommended hours.
There are local tour operators who specialise in tours of the Pinnacles and there are also guided tours of the Pinnacles that incorporate other nearby attractions. One possible option is The Pinnacles Desert, New Norcia and Wildflowers day tour. Or if you have more time up your sleeve, another alternative is the 3 day Monkey Mia Dolphins, Pinnacles Dessert and Kalbarri National Park Tour.
Accommodation options around Cervantes consist of self contained holiday units such as Cervantes Holiday Homes, motels, camping at the local Pinnacles Caravan Park, backpackers accommodation at the Cervantes Lodge, and private holiday home options.
The Europa Anchor Restaurant based at the Cervantes Pinnacles Motel offers modern Australian and Italian cuisine, with special woodfired pizza on Sunday. The Seabreeze Café is great for fish and chips, takeaway or dine in. The fish there is jumping fresh, and you'll be greeted with a friendly smile by Jody. There are also other take away options such as burgers and pizzas if you are not into seafood.
Around Cervantes, the first port of call would have to be the Visitor Information Centre that is tucked away inside the Post Office. Grab yourself a map of the Cervantes township and get an overview from the friendly staff on things to do and see around the area.
On the same strip as the Post Office, you'll be able to spot the General Store where you can pick up some provisions if you are self catering. And if you're after a pint or two, there's also the Roebuck Bay tavern within shouting distance.
Kangaroo Point is good for a picnic or BBQ at dusk. And as the name implies, you may even spot a kangaroo or two if you are lucky. There's also Hangover Bay to explore within the Nambung National Park for a stretch of sandy beach and a spot for water activities.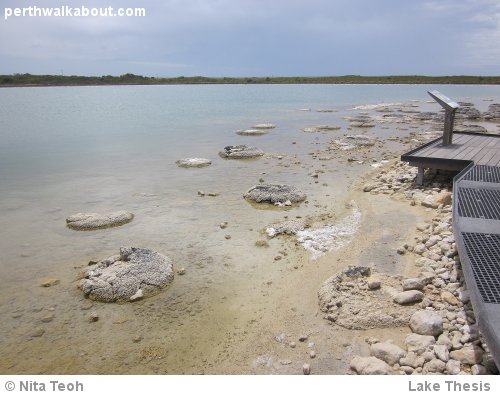 Lake Thesis is home to stromatolites built by micro organisms, and has plenty of pelicans and other local bird life. There is an easy 1.5 kilometre circuit loop walk, and on the board walk you'll find some storyboards to browse through to learn about the ecology of the area. On a sunny day, Lake Thesis glistens bright, and if you walk around to the far side of the lake away from the board walk, you might be able to catch a cool breeze.
A walk around Cervantes via the beaches is highly recommended. You can explore the township at prominent lookouts such as Thirsty Point, or you can walk the Cervantes Service Jetty when it lights up at night.
Picnic shelters are conveniently scattered around the township at foreshore and beach locations. For the kids, there's the playground adjacent to the Pinnacles Caravan Park and the Seashells Café.
Once you have seen the sights in Cervantes, you can continue north along the Indian Ocean Drive to visit other towns such as Jurien Bay, and Geraldton.
Cervantes is a beautiful seaside spot with plenty of natural scenic attractions to entice you for a weekender. If the sun's shining and you're feeling like a holiday, it may be time to head up to Cervantes again.
For more Related Articles, please scroll to the bottom of this page.
If you enjoyed this article, please share it!