Details

Category: Travel in WA
Published: Saturday, 04 July 2015 08:40
Written by Bob Figg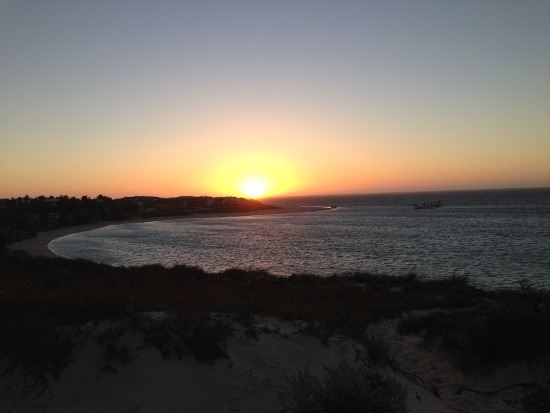 Coral Bay
Photo Credit: Bob Figg

As you plan a trip around round Australia the hardest part is where to leave off your list – but whichever way you make the trip make sure Coral Bay stays on the agenda.
Situated 12 hours drive north of Perth or three south of Exmouth, Coral Bay is virtually unbookable less than a year ahead during school holidays, so check your dates and grab a house, campsite, unit or backpacker room.
Coral Bay is undergoing a transition to a more formal and well-equipped destination. For some that will ruin the old vibe, but for others the option of a cold beer and a decent value meal at the new pub, will be a welcome addition.
Yes, it is an ordeal to get there, but once you have arrived you can park the car up and not touch it for the duration of your stay unless you really want to.
There is perhaps no greater wonder than the first time you wade out into the cobalt blue bay, with fish literally swimming around your feet - then launch yourself off and drift silently over a the reef as it explodes into colour and life with a tropical fish show that comes straight out of National Geographic.
Even less than expert swimmers can enjoy the show, with safe currents drifting you over coral formations that are home to every type of tropical fish. If you cannot swim at all, head out to where the tourist boats moor. Sit yourself on the sloping sands, just in the water and the fish used to being fed in that area will be all around your feet in seconds. Just pop on a mask and join the fun of the underwater world.
Out of the water there are a wide range of land and sea based yours during the main season – from quad biking to whale watching, from swimming with Manta rays and Whale Sharks to twilight cruises. Just do check the season – some events run all year round but others are dictated by Mother Nature's timetable.
There are now a range of eating out options which means you can push the boat out for a full ala carte experience of stick with fish and chips.
The range of houses for rent is extensive. We stayed in a two-bedroom house from which we walked up a dune and enjoyed wonderful sunsets every evening. The place was well-equipped and good value in our off-season foray north.
With Bill's Tavern now doing a roaring trade we found eating out a relatively inexpensive option and when we needed to reign in the spending the Weber Q on the veranda of the house made for some excellent al fresco home catering. A general store, bakery, cafes and resort options means there is decent competition for the visitor dollar so prices are reasonable given the remote location.
Coral Bay's greatest asset is the vibe. It's hard not to relax when all you have to do is walk 50 metres to one of the most spectacular coral reefs you'll find.
Remember, make the list of must-sees and ensure Coral bay stays on it!
If you enjoyed this article, please share it!

To get the insider's perspective on unique places in Perth and WA, follow us @PerthWalkabout