Details

Category: Travel in WA
Published: Wednesday, 11 January 2012 10:27
Written by Emily Cordz


Denmark has become a haven for the artistic and environmentally minded since the 1980s. Located only 38km west of Albany and about 420km south of Perth, it is a charming destination with things on offer for everyone from adventurers to romantics to families. With comfortable temperatures year round, any time is a good time to visit Denmark.


Like many of the towns along the southwest coast, Denmark has lots to offer the outdoor enthusiast. Ocean Beach along Wilson Inlet has excellent surfing. There are several shops that offer equipment rental or lessons for those less experienced. Just a bit further west is William Bay National Park, which offers excellent beaches and swimming. Greens Pool is popular for swimming, while Elephant Rocks makes a great picnic spot or even a good place to do some beach fishing. You don't have to leave town to enjoy the water. Canoeing, kayaking or paddle boating on the Denmark River through town is a great way to pass an afternoon. Bring along a picnic and enjoy one of the beautiful spots along the way.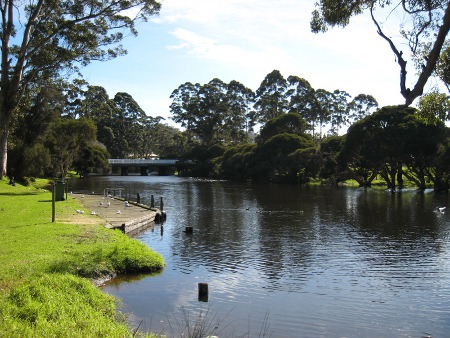 Denmark River
Photo Credit: Flickr/Mark Pegrum

A good pair of walking shoes is recommended if you plan to enjoy the many trails in and around Denmark. The Mokare Heritage Trail is a 3km long circuit through the city along the Denmark River, while the Wilson Inlet Heritage Trial skirts for 12km along the inlet coast and some of the Denmark River. If you don't feel like walking, the visitor centre rents out bicycles, which are great on the many multi-use trails surrounding Denmark. Or take in the scenery with a scenic drive along Mt. Shadforth Drive, stopping at Mt. Shadforth lookout to enjoy some stunning coastal views.
Denmark is a place you don't have to worry about finding things for the entire family to enjoy. Dinosaur World is always popular, not only because there are dinosaurs, including Australia's only T-Rex, but also because there are live dinosaur descendants that you're allowed to handle. Don't worry, it's not a Jurassic Park in the making, they're birds and reptiles. For more animal interactions, head to Petland Alpaca Stud & Animal Farm. Kids, and adults, can feed and pet the alpacas, rabbits, koalas, guinea pigs, ferrets and joeys. Beyond the many parks, the Denmark Maze is an excellent place for expelling excess energy and enjoying the outdoors.
Other popular places for families, or just those with a zest for life and maybe a sweet tooth or two, are the Whitfield Estate (including the Picnic in the Paddock Café and Pawprint Chocolate), Toffee Factory and Elephant Rock Cider, and Denmark Chocolate Company. Each of these places offer decadent sweets for everyone and locally made wine, cider or beer for the adults. The hot chocolate at the Denmark Chocolate Company is particularly good.
Delicious, local, artisan foods abound in Denmark. Consistently winning awards for their outstanding meat pies and other delectable goods is the Denmark Bakery. A must for anyone who loves baked goods. The Bushfood Factory and Cafe, located between Albany and Denmark, provides visitors with the opportunity to try and buy uniquely Australia bushfood. Dark Side Chocolates creates smooth, rich, small batch chocolates by hand. Denmark Berry Farm sells fresh berry preserve, as well as offering you-pick options when the berries are in season. Handmade cheeses, fudge and preserves can be found at the Denmark Farmhouse, which also operates Ducketts Mill Wines if you want a perfect beverage to compliment your indulgence.
Denmark has a lot of great, environmentally friendly, gourmet food, but it is also known for its artistic community. Stroll through town to enjoy hand crafted products of wood, leather, and ceramics, as well as stunning paintings, performances and music. There are also numerous weekend markets and festivals throughout the year that showcase the work of local artists and regional farmers. I always enjoy a mental challenge, so my favourite place was the Tinglewood Wines and Puzzle Shop, where you can try and buy an assortment of jigsaw puzzles and games.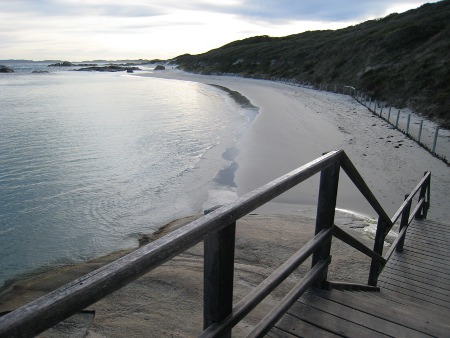 William Bay
Photo Credit: Flickr/Mark Pegrum


Wind down from your night with a few drinks. Bartholomews Meadery, near William Bay National Park, is one of the few meaderies in Australia, although mead is currently re-growing in popularity. You can sample and buy mead, honey, ice-cream and many bee/honey products. Denmark Brews and Ales serves up handcrafted local ales, stout, lager and cider, paired with beautiful views of the surrounding area. Wine aficionados will want to head to Harewood Estate and Forest Hill Vineyard to partake in some of the award winning wine from the region.
With so much to do in Denmark, you might find yourself wanting to stay a few nights to give yourself plenty of time to explore. Even the caravan parks around Denmark offer picturesque ambiance with one located by the river and the other near the beach. Those wanting to go more upscale will find plenty of options ranging from motels to bed and breakfasts to holiday rentals. Book early for the holidays, Denmark is a popular destination.
From Denmark you can head east to discover Albany, or west to the Tree Top Walk, Walpole and beyond.