Details

Category: Travel in WA
Published: Friday, 02 December 2011 10:52
Written by Vicki Sly

Situated on Western Australia's Coral Coast, the small fishing town of Kalbarri has been a holiday favourite with the locals for many years.
By locals I mean West Australians.
Many of my friends who grew up with me in the south west would head north to Kalbarri every year for the traditional family holiday.
In Australian terms, it is an easy distance from Perth – only 590 km or about six hours of driving.
It remains a favourite today so it must be doing something right!
View over Murchison and Kalbarri National Park
Photo Credit: Flickr/Neil's Photography

Kalbarri is a small coastal town with year-round sunny weather and a laid-back feel to it that changes to a general buzz when the holiday season arrives. It pays to book in advance and get in early if you are planning to travel there in peak season.
On my family's latest visit last year, we visited off peak and the town was pretty quiet. Still, there was plenty to see and do.
We headed to the gorges to check out the mighty Murchison River which winds its way through the Kalbarri National Park and has carved out some pretty special landscape over the years which includes The Loop and the Z Bend.

Many people choose to explore from the water via canoe, kayak or river cruise but we decided to hike along the top and take some happy snaps at Nature's Window, which is one of WA's most iconic rock formations.
Unfortunately the river was not looking too mighty when we visited at it had been unseasonably hot and dry. Ironically it was well over 40 degrees on our walk (take a hat and lots of water) but then we were caught up in an electrical storm and got soaked to the bone. Mother Nature at her best.
Kalbarri is a great place to view wildflowers and there are some 800 species to check out if you are there between July and October so you should keep this in mind if you are planning a visit mid year.
Many families, particularly with young children, holiday in Kalbarri because of the safe and clean swimming beaches. However, close by there is also some excellent surf breaks which are not for the faint-hearted.
Also not to be missed for families is the feeding of the pelicans on the foreshore every morning. There is normally a sign up with the feeding times advertised so make sure you look out for it on arrival. Kalbarri is not a big town so you won't miss it!
Another favourite with my children was the outdoor activity park with heaps of trampolines and climbing frames. Not your typical thing to do by the beach but if you are staying for a while you may be looking for something to keep the kids happy.

Exploring the coastal cliffs is also a popular tourist attraction as the scenery is quite dramatic and if you are lucky you may spot some whales or dolphins which often frequent the coast around Kalbarri.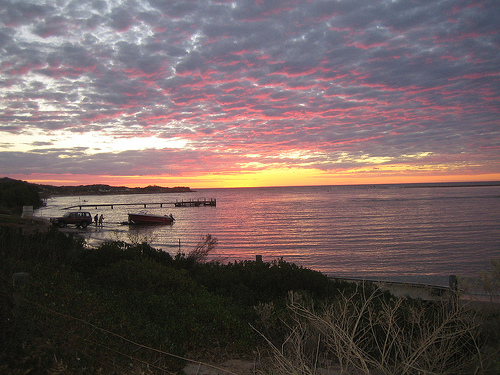 Kalbarri Sunset
Photo Credit: Flickr/Kevwhelan


Kalbarri is a fishing town so for the angler, make sure you pack the rod – but maybe leave the bait until you get there. You can join a charter or just stay put on the beach.
For a small town, Kalbarri has a lot of options when it comes to food and accommodation. As we were on a short holiday break, I refused to cook, and we were pleasantly surprised by the choices and cost of what was on offer to eat.
In terms of accommodation, this ranges from resort style through to caravan parks and backpackers so you are bound to find something that suits the budget.
Are you one of those people whose family heads to Kalbarri each year? If so, we would love to hear from you. Please add your comments below.