Details

Category: Travel in WA
Published: Friday, 18 November 2011 11:14
Written by Benji Leggate

Margaret River is the apple of Western Australia's eye. Not only is it world-renowned for its top wineries and fine dining restaurants and cafes, but it is also famous for its surf, beaches and breathtaking natural attractions. Therefore, your trip to Western Australia won't be complete if you don't stop at Margaret River.

If you're looking for a reason to tempt you to visit the area, here are seven things which you should see or do at least once in Margaret River.
1. Mammoth Cave –There are hundreds of caves near Margaret River, but the one that stands out the most is Mammoth Cave. The cave is divided into multiple chambers, each of which contained fossils as old as 35,000 years. Other factors which make the Mammoth Cave special are a self-guided audio tour and partial disabled access.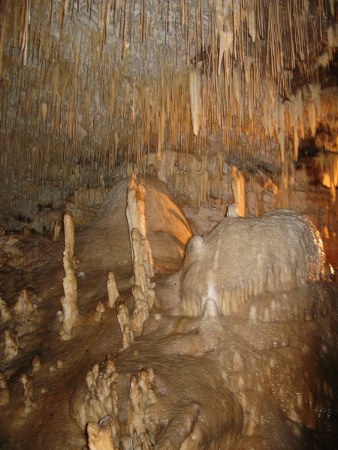 Photo Credit: Benji Leggate, Margaret River Guide


2. Leeuwin Estate –Leeuwin Estate is one of the top wineries in the Margaret River region. Previously a cattle station, the 121 acres of vineyards produce over 60,000 cases of wine every year. You can head over to the estate to taste some of the finest internationally-acclaimed wines, including the famed Art Series Chardonnay and Art Series Cabernet Sauvignon. You can also visit the estate to be part of its annual series of concerts, which feature top Australian and international performers.

3. Margaret River Wine Region Festival –If you enjoy savouring some of the finest wines in the world, the Margaret River Wine Region Festival is just the thing for you. For over twenty years, the festival has been showcasing the unique lifestyle of the Wine Region, its fine dining, arts and natural attractions. The festival takes place around March every year and is filled with exciting events such as wine tastings, art competitions and cricket matches.
4. Whale Watching –Humpback and Southern Right whales travel to Antarctica through the Margaret River area. From June to September, whales come to Flinders Bay to feed, eat and reproduce. They then migrate to the north of Margaret River in September and stay in the sheltered Geographe Bay until December.
5. Cape Leeuwin Lighthouse –Considered to be a historic landmark, this lighthouse is the tallest in Mainland Australia. It stands at the intersection of the Indian and Southern Oceans, giving its visitors a stunning view of the surrounding sparkling waters. Near to the Cape Leeuwin Lighthouse is the Old Waterwheel, a wooden wheel that was used to supply the lighthouse with water from the Leeuwin-Naturaliste Ridge. If you intend to visit the lighthouse, consider taking a guided tour and stopping at one of the heritage cottages for a light lunch or a cup of coffee.



Photo Credit: Nicolas Risch Photography


6. Surfing–Margaret River is a special location for surfers because of its large waves. You can head to The Bombie at Prevelly Beach, Boneyard, Gallows, Guillotine or Lefthanders to enjoy facing ferocious waves and show off your skills. In addition, since Margaret River is famous for its major surfing events, you can attend Margaret River Pro after Easter and the Margaret River Classic in November.
7. Scuba Diving –If you're spending summer at Margaret River, you can go scuba diving to uncover the area's soft corals and marine life. You can dive near the Busselton Jetty, which is the longest timber jetty in the southern hemisphere, or head to the HMAS Swan shipwreck to marvel at the purposely sunk ship.
For the hikers out there, there is the Cape to Cape walk but that is an article in its self. These are but a few of the attractions you can check out in Margaret River.

Benji Leggate and his family fell in love with the lifestyle that Margaret River offers. For more insights from a local about attractions in Margaret River, visit The Margaret River Guide.