Details

Category: Travel in WA
Published: Wednesday, 21 September 2011 11:05
Written by Emily Cordz

Prepare to use all of your five senses when you visit Pemberton. What was once a small timber town has blossomed into a wonderful getaway. Located only 338 km south of Perth, a visit to Pemberton could be a long day trip or a several days adventure. No matter how long you stay there is always plenty to do.

You'll know you're getting close to Pemberton when you find yourself surrounded by extensive forests of very tall trees. Pemberton is surrounded by several Karri forests. These impressive trees are only found in the south west region of Western Australia and are among the world's tallest trees, growing as tall as 90 metres.
You appreciate them from the ground or for a unique experience, climb one. Historically certain trees were selected to be used as fire lookouts. Today, three of these trees are open to the public to climb; Dave Evans Bicentennial Tree at 75 metres, Gloucester Tree at 60 metres and Diamond Tree at 51 metres. The tops of the trees are accessible by climbing up the metal spikes that were hammered into the side of the tree and circle up to the top. The majority of folks attempting the climb don't make it to the top, and those that do say that the first few steps back down are the hardest. If you stay on the ground you'll still have lots to see with a plethora of parrots and other native birds hanging around hoping for a bite to eat.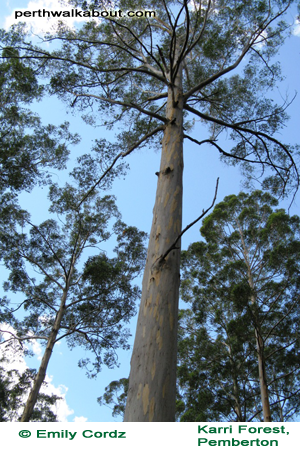 You can continue your explorations of the forest along the Karri Forest Explorer driving route, which will take you by long and short hiking trails, Beedelup Falls and great picnic spots. Big Brook Dam, just outside of Pemberton, is a great place to stop and recharge. You can swim, canoe, fish or just relax along the shore with a good book. The signs along the trails provide lots of interesting information about the forest and what life was like for early settlers.
One of the most important parts of any trip is the food and Pemberton has plenty to tempt the tastebuds. The two main specialties include trout and marron, a freshwater crustacean. Most restaurants in town will have a few dishes dedicated to these local ingredients. If you want the most selection of potential dishes The King Trout Restaurant and Marron Farm prepares trout and marron in an impressive number of ways.
Good food isn't limited to fish. Start your day off right with a hearty breakfast at the Pemberton Millhouse Cafe or at the Lavender and Berry Farm where the berry pancakes are amazing. If the season is right, you can even do some berry picking and have some delicious, fresh snacks for later in the day. Say hi to the miniature horses and alpacas as you wander around the gardens. Stop by Holy Smoke, a local smoked goods shop, and get what you need to treat yourself to a gourmet picnic.
For wine enthusiasts, the Pemberton area is gaining recognition as a producer of premium wines. Most of the wineries are small, family run establishments, so when you go for a tasting you often are served by the winemaker themselves. Stop by the Pemberton visitor's centre for map of the local wineries with cellar door tastings. Or if you're short of time, a visit to the Pemberton Wine Centre will allow you to taste most local wines and take home a mixed box of your favourites. If beer is more you style, Jarrah Jacks is a local brewery and winery that offers tastings of their products along with a scrumptious food if you're feeling peckish.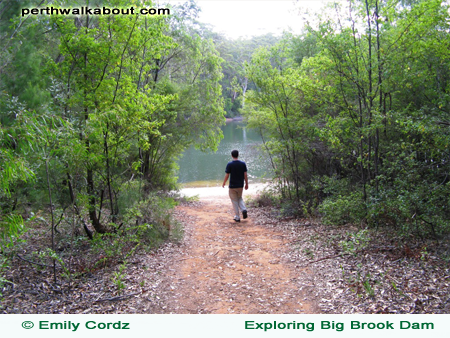 With so much to do, you could easily spend several days here. Depending on your budget and preferred travel style there are private cottages for rent, hotels and the Pemberton Caravan Park. We stayed at the caravan park and got a wonderful spot by a little stream. The park is also right down the street from the natural swimming pool should you want to escape the heat and have a little dip.
Pemberton has attractions to appeal to everyone and is an excellent starting or base point to explore more of the beautiful south west.