Details

Category: Travel in WA
Published: Friday, 23 September 2011 08:38
Written by Vicki Sly
Many believe that you can never quite experience the "real" Western Australia unless you step outside the city and away from the coast.
It is true that the bulk of Western Australians live in Perth (about 1.7 million out of 2.3 million) and a great majority of the rest live in the regional coastal towns, but there are those that choose to live a different kind of existence, life on the land.
For travellers who want to escape the hustle and bustle of city life for a while, experiencing this pastoral lifestyle in all its glory is a real option.
Farm stays offer the chance to get your hands dirty, work with animals, breathe in the Australian bush, take a hike and best of all, meet the locals who are working the land.
Australian farming is not for the faint-hearted. We are a country of contrasts with droughts, floods and fire all playing their part to paint the harsh and unforgiving landscape. But your visit to a farm will be more about leaving the stress behind and embracing the basics of living. Prepare yourself; there may not even be mobile phone coverage!
Where to go and what to see?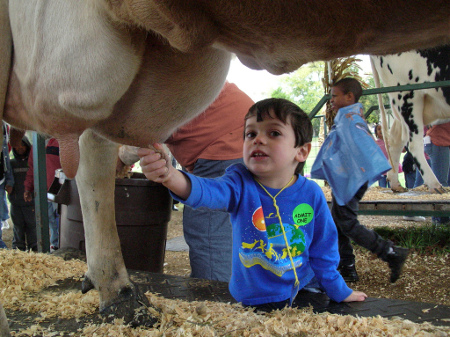 Tentatively, his hand tugged Tinkerbell's teat
Photo Credit: Flickr/Woodleywonderworks

The first consideration may be if you are travelling as a family, a couple or solo.
If you are planning a visit with your family then the best type of farm stay would be one that allows the children to handfeed the animals, collect the eggs for breakfast, help milk the cows and take rides on placid ponies and tractors piled high with hay.
If part of the plan is to escape from the actual family then you may wish to choose a farm stay that has a self-contained cottage and allows for long leisurely bush walks, fishing by the lake and a drop of good red wine in front of the fire.
If you are travelling solo and want some company, then look for a farm stay that welcomes you into the homestead and offers hearty home-cooked meals and a roof over your head. In exchange, you may need to muck in and get your hands dirty.
What direction you head away from Perth will depend on how much time you have up your sleeve or what area of the state you would like to explore.
One of the perks of any farm stay is living with locals who know the land around them better than any travel book or tourist brochure. If you have always wanted to spend time in a certain area because of your interest in say birds or wine then you should tie this in with your farm stay.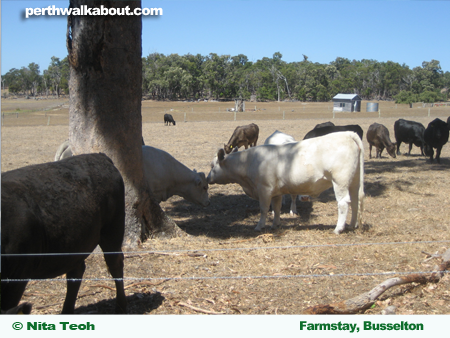 The following are a just a few suggested farm stays within an easy distance of Perth. If you have more time to go further afield, then the options are limitless and the best advice would be to contact the visitor centre in the area of choice for details.
Boshack Outback is a 350 acre working farm located 90 minutes north-east of Perth towards Toodyay. Touted to offer an authentic Australian outback experience, the three accommodation options include Humpy Farmstay, Glamping Farmstay and Bed and Breakfast Host Farmstay.
Harvey Hills Farmstay is approximately 90 minutes south of Perth along the South West Highway. The 615 acre farm boasts donkeys, ponies, kangaroos, goats, sheep, cows, chickens, ducks and rabbits to feed. If that's not enough to keep the kids busy, there is also a swimming pool and trampoline!
Lilly Pilly Cottage is in Gidgegannup in the Perth hills approximately 50 minutes from the city centre. The 100 acre property offers a family farm experience down to milking the cow Betsie and feeding the ponies and alpacas.
Settler's Rest Farmstay is just 30 minutes north-east from the centre of Perth in the Swan Valley, WA's premium and oldest wine region. No need to think twice on what you could get up to here!
Do you have a great Perth farm stay experience to share?

Add your comments below.