Details

Category: Travel in WA
Published: Friday, 30 December 2011 08:15
Written by Vicki Sly

The Shark Bay World Heritage Drive along Western Australia's coral coast takes you on a journey from ancient stromatolites to the world-famous dolphin centre at Monkey Mia and thoroughly deserves its World Heritage status.
The road trip can begin or end at Monkey Mia so if you are travelling from Perth and are short on time, you may wish to fly into this small resort and then take to the road.
Travellers with more time on their hands can drive north about 700 km from Perth to the Overlander Roadhouse on the North West Coastal Highway. It is here the 130 km drive inland along the coast begins.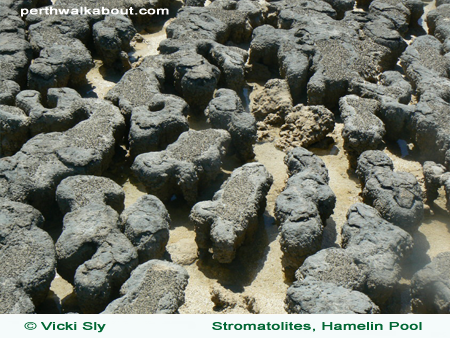 Hamelin Pool Stromatolites and Hamelin Telegraph Station
There are plenty of stops to make along the Shark Bay World Heritage Drive and first on the list are the Hamelin Pool Stromatolites and Hamelin Telegraph Station.
This area is one of only a few in the world where the living stromatolites can be seen. These living rocks are built by single-celled cyanobacteria which are linked to the earliest known forms of life dating back 3,500 million years.
A boardwalk has been built over the area and extends out over the water so visitors can see examples of both living and dead fossils without harming the environment. If the wind is up, make sure you hang onto your hats as I lost mine and had to dangle my daughter upside down off the jetty to pick it up without touching any of the fossils!
On the pathway that leads to the beach you will come across a shell quarry that early settlers in the area used for the main source of building material as wood and rocks were scarce. The shells were formed into building blocks and can be seen at some of Denham's historical buildings.
The Hamelin Telegraph Station was built in 1884 and includes a small tea room and museum with guided tours. There is also a caravan park for those wishing to stay for a while and it was very busy when we were there so it pays to book ahead.
Shell Beach, Shark Bay
A short drive further along the road is Shell Beach, named after the million upon millions of small discarded shells that cover the beach and are 10 metres thick in some parts.
The shells come from the Hamelin Cockle that is attracted to the area due to the high salt content in the surrounding waters.
Denham, Shark Bay
The town of Denham is a great place for visitors to the area to base themselves as it has many accommodation options, restaurants, shops and essential services.
Denham started out as a pearling town but now thrives on tourism and fishing and gets very busy in the holiday season so it pays to book ahead.
When we camped in Denham it was very windy, so much so that my children and I opted to retreat to the back of the car to sleep. In the morning, many of the tourists packed up to leave because of the wind. This should not put you off but if you do plan to camp you may wish to ask in advance what the weather is like at the time of the year you plan to visit.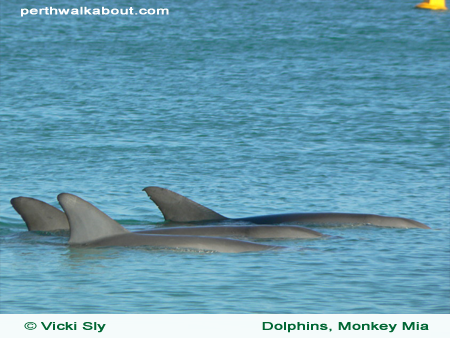 Monkey Mia, Shark Bay
A short drive 24 km north of Denham is the reason many travellers find themselves in the area – to get up close and personal with wild dolphins at Monkey Mia.
For over 40 years, dolphins have been coming in to the bay to interact with people and although there is now a no-touch policy, to be so close to wild dolphins, in this case bottlenose, is what attracts hordes of visitors each year.
The dolphins tend to come in for feeding between 8.00 am and noon each day and this may vary from between four and 13 dolphins. Only the older females are fed small amounts of fish but their babies travel with them and are happy to mingle.
If you are planning to visit during the school holidays the key is to get in early as the day my family were there we shared the beach with 350+ people. After the 8.00 am feed the crowd does dwindle but there are no guarantees when the dolphins will be back so it can be a bit of a wait and hit and miss.
Other attractions to take in whilst in the Shark Bay area include Eagle Bluff, Little Lagoon, the Ocean Park Aquarium, Peron Homestead and Francois Peron National Park.
Have you ventured to the Shark Bay area and have a tip you would like to share with us?