Details

Category: Travel in WA
Published: Tuesday, 23 August 2011 14:04
Written by Emily Cordz

Many travellers who fly to Perth often comment how they would love to travel Western Australia to see more of the State, but everything is so far that the thought of driving there and back in a short amount of time puts them off the idea. If you are one of those travellers, instead of making it a round trip consider making a one way exploration either coming or going from Perth. The two key things you'll need is a car, preferably a four wheel drive to open up you opportunities in the various roads and national parks along the way, and a sense of adventure.
Being the type of travellers who like to explore places often missed by many visitors my partner and I decided to drive along the Top End following the Savannah Way and then down the coast along the North West Coastal Highway to Perth. This choice not only gave us the opportunity to experience a larger portion of Western Australia, but it also provided us with many of our best trip memories. We only skimmed the surface of what Western Australia north of Perth has to offer. You could easily spend months exploring and still have so much more to see.
Depending on what route you take you'll be passing through the Kimberley region, Outback, savannah and coastal region. Each environment provides its own unique beauty and opportunities for exploration. Western Australia is rich in history, both Aboriginal and early Australian settler. Outdoorsy folks will love the numerous opportunities to immerse themselves in the many national parks. And those who relish discovering the distinctive character of an area will enjoy exploring the various small and large towns along the way. My favourite part of planning our route was reading the names of the places we'd be passing. Names like Desperation Bay and Useless Loop give you a great image of what people were feeling toward the places as they named them.




The main roads are sealed allowing a car or campervan to traverse them easily, but if you want to really discover what the area away from the highway has to offer, a large four wheel drive vehicle will be your best friend. There are tours offered for those who don't have one in places where one is necessary to really explore, like the Bungle Bungle Range in Purnululu National Park. If you don't plan on leaving the main road often and instead plan to discover the attractions easily reached by road like the dolphins of Monkey Mia or Cable Beach in Broome, then a car will suit your adventure just fine.
The further you get from major cities, the more you'll want to stop at almost every service station you come to. Most cars won't need to carry extra petrol, but a little back up is always a good idea. Trust me; you don't want to spend close to 40 kilometres praying that your vehicle will make the next service station. One place you'll most likely stop at is the BP service station in Kununurra after the Western Australian border crossing to fill up both your car and yourself, restock some of your fresh fruit and vegetable and use their bathroom. Enjoy the strange looks newly arrived travellers give you while you wander around carrying the ridiculously large plastic crocodile that is attached to the bathroom key.
If you have camping gear, I highly recommend saving some money and camping at the many rest stops along the way that allow overnight camping. Not only are these free, but many of the sites are as nice as or nicer than the caravan parks nearby. Be sure to look up at night and enjoy a stunning view of the stars and Milky Way. You'll want to carry a little toilet paper with you. Most places are good at maintaining their supply, but you'd hate to be caught in need of some and find yourself lacking. Also, be prepared for some bathroom friends. Most of them have the typical array of insects, but one rest stop we came to had a birds nest complete with eggs in it.
During long drives it can be tempting to tune out until you get to your next point of interest, especially during the midday heat when your air conditioner isn't working, but a good portion of the experience of Western Australia happens during the driving portions. In the north end of the state you can see stunning landscapes, unique vegetation and experience wide open spaces without another soul in sight, although you will also often see large amounts of almost comically bloated road kill in the sections with few trees.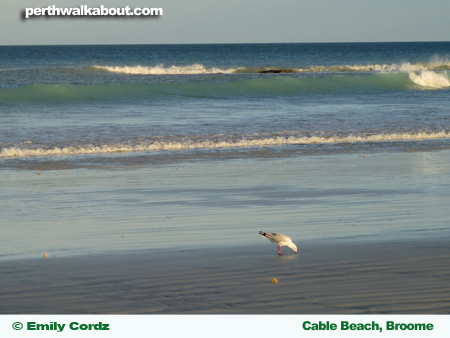 As you travel down the coast you'll catch glimpses of the white sand beaches and sparkling Indian Ocean. You'll pass rolling hills dotted with farm houses, cows (who get significantly fatter the further south you travel) and wildflowers. And as you near Perth you'll finish off by driving through the numerous vineyards and olive groves of Swan Valley.
A long extended road trip through Western Australia is not for everyone. It does take more planning than just hopping on a plane, but the experience of the drive and the unexpected things you discover along the way make all the planning worth it. The only thing I would change about our decision to drive to Perth would be to have had more time for exploring and relaxing in the many destinations.