Details

Category: Travel in WA
Published: Friday, 08 June 2012 10:12
Written by Vicki Sly
If you are travelling to or live in Perth and would like to venture outside of the capital city,here are five top places to visit in Western Australia (WA).
In a state that is larger in size than Western Europe, it pays to plan ahead and work out how much time you have up your sleeve, how you want to travel (driving the length of the state can take days) and what you would like to do when you get there.
Here are just some of WA's many tourist attractions:
Albany, Great Southern
The first town to be settled in WA, Albany lies approximately four hours south of Perth by car (409km).
It is one of the best places in Australia to see whales migrating from the Antarctic with humpbacks and southern right whales regular visitors to the area between May and October.
Albany has beautiful beaches and national parks and the region is packed with wineries and farms. The historic town has plenty of restaurants, shops, museums and is home to Australia's last operating whale station which now operates as a popular museum.
It is cold in the south during the winter months so whilst lovely, it will not be great for swimming and sunning yourself at the beach. But if you love to don a warm coat, hat and gloves then you can still spend time on one of Albany's many beaches whale watching, fishing or watching the keen wind surfers.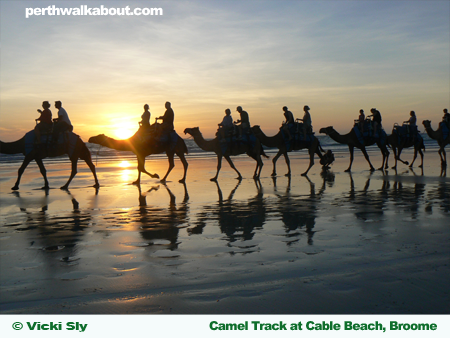 Broome, The Kimberley
Broome is located 2200km north of Perth and is well known as one of Australia's prime beach holiday destinations.
Broome offers year-round tropical weather, an interesting pearling history, natural wonders, historical sites, cosmopolitan food, markets, famous camel treks and pristine beaches - just for starters.
The Stairway to the Moon is one of Broome's natural phenomena and occurs when the full moon reflects off the mudflats of Roebuck Bay at low tide to create the illusion of a set of stairs leading to the moon. This only occurs from March to October and lasts for about three days each month.
The best time to travel to Broome in terms of the temperature is in the dry season which runs from May to October but keep in mind that this is also the same time everyone else travels to Broome so brace yourself for a crowd.
Exmouth, Coral Coast
Exmouth is home to the world-renown Ningaloo Reef, magnificent wildlife, rugged gorges and year-round warm weather.
It is located 1270 km north of Perth and is a perfect place to experience Mother Nature's marine creatures with migrating whale sharks, humpback whales and nesting turtles.
There are some great historical and natural places to visit close to the actual townsite of Exmouth. Vlamingh Head Lighthouse is 17km north of the town and offers commanding views of the North West Cape. We were lucky to watch humpbacks play in the bay on a recent visit.
A 14km drive south of Exmouth is Shothole Canyon, and just further south of here, Charles Knife Canyon. Both drives are short and offer some great views of the area.
Margaret River, South West
Margaret River is approximately three hours south of Perth and is considered by Lonely Planet as one the top 10 travel destinations in the world.
There is not enough space in this article to do it justice so let's just say the Margaret River region is world famous for its surfing, wine growing, food and caving.
The best time to visit the area depends on what you want in a break and although winter can be cold and wet, a weekend away in the low tourist season with a warm glass of red in front of the fire can be just as wonderful as a visit in the middle of the summer buzz.
Its close proximity to Perth means you can revisit time and time again!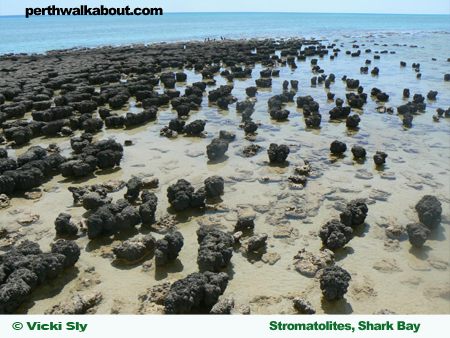 Shark Bay/Monkey Mia, Coral Coast
Shark Bay is on WA coral coast and is the most westerly point of Australia. According to the UNESCO World Heritage Centre, Shark Bay has three exceptional natural features that deem it worthy of its listing – "its vast sea-grass beds, which are the largest and richest in the world (4,800 km2); its dugong population; and its stromatolites (colonies of algae which form hard, dome-shaped deposits and are among the oldest forms of life on earth). Shark Bay is also home to five species of endangered mammals."
Located 820km north of Perth, Shark Bay's attractions are varied. The experience of interacting with wild dolphins at Monkey Mia is a must, as too are visits to the Hamelin Pool Stromatolites and Shell Beach. The town of Denham is a great place for visitors to the area to base themselves as it has many accommodation options, restaurants, shops and essential services.
Do you have a top place to visit in Western Australia that you would like to share with us?

Please add your comments below.
For more Related Articles, please scroll to the bottom of this page.