Details

Category: Travel in WA
Published: Wednesday, 14 December 2011 11:44
Written by Emily Cordz
Located along the north side of the Walpole Inlet, this small country town offers countless attractions for anyone enthusiastic about or even marginally interested in the outdoors. To get to Walpole, drive south from Perth along the South Western Highway for about 420km or head east from Demark for 65km.
A great first stop when you arrive in town is the Walpole Visitor Centre. It is located along the South Coast Highway in Pioneer Park. Walpole grew significantly in the 1930s Great Depression through the Nornalup Land Settlement, which brought unemployed men and their families into the area to develop farming. They camped in Pioneer Park as they waited for their land allocation. Learn more about this and other parts of Walpole's history, pick up maps, get recommendations and chat with some locals before heading out to explore everything Walpole has to offer.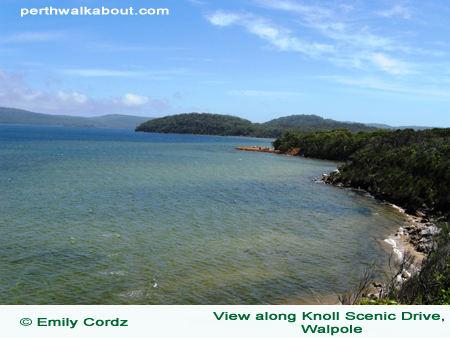 The township of Walpole is an island surrounded by a sea of the Walpole Wilderness. This area of old growth forest, wetlands and endemic flora and fauna is made up of six national parks, some of which were designated parks since the early 1900s. One of the best ways to experience the unique beauty of this region is by canoeing or kayaking along the inlets and rivers. Those wanting a guided exploration will enjoy the WOW Wilderness EcoCruise that run daily for 2.5 hours.
Bushwalkers enjoy a multitude of opportunities to immerse themselves in the wild. Those seeking stunning views of the area will want to summit Mt. Frankland in a somewhat challenging one hour round trip hike. Coalmine Beach Heritage Trail is a 3km long trail that provides beautiful coastal views and plenty of bird watching opportunity. Also nearby is the Valley of the Giants Tree Top Walk, which takes visitors 40 metres above ground into the tree tops.
Walpole is also one of the few places that one can easily access the Bibbulmun Track for day hikes, which are particularly pretty in the spring with many wildflowers in bloom. The Bibbulmun Track extends from Kalamunda near Perth to Albany, about 963km long, completing the entire length takes about six to eight weeks.

There are many scenic drives that can immerse you in the area as well. The Knoll Scenic Drive near Coalmine Beach will weave you through the forest and along the coast. There are several good fishing and picnicking spots along the way too. Actually almost any place near Walpole offers excellent fishing due to the variety of environments created by the rivers, inlets and ocean. Be sure to check for any restrictions before dropping a line.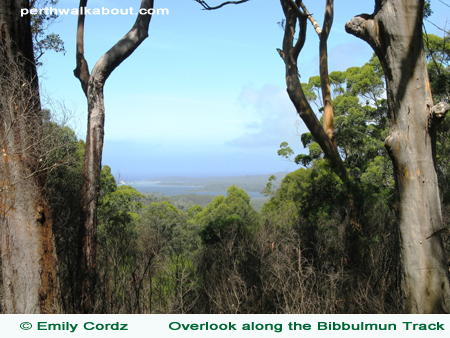 Hilltop Road will carry you through the unique Karri and Red Tingle forest, leading you to a lookout with sweeping views of the Frankland River and Nornalup Inlet. Don't turn around yet. Keep going another 3 kilometres to the car park for the Giant Tingle tree. An 800 metre circular path will lead you to the world's largest girthed (24 metres), living Tingle tree. Continue along Hilltop road to discover the Circular Pool in the Frankland River. The currents in the water create beautiful patterns through the foam it creates, making it a good photo opportunity and a peaceful picnic spot.
Don't forget, there is a reason the forests in this area are so lush. If you're visiting in the winter be sure to bring rain gear, because the chances are very good that you will be rained on. Those that brave the cooler, wet weather often are rewarded with excellent whale watching opportunities. Humpbacks and Southern Right whales are regularly seen off the coast in the months between June and September. The viewing platform at Conspicuous Cliff is one of the best places to spot them and is one of three places near Walpole with drive up access to the coast.
Walpole has many great cafes, bakeries, pubs and restaurants to recharge yourself after your day of adventuring. Fresh, local produce is king when it comes to dining in Walpole and there is no shortage of delicious seafood to go with it. Talk to the locals to find out where to go, or just choose a place at random. It is hard to go wrong when it comes to dining. Take a leisurely stroll along Town Jetty or Swarbrick Jetty after your meal. Both are particularly lovely at sunrise or sunset and are a great way to wind down from your day.

From Walpole you can continue your explorations of Australia's South West and head east towards Denmark and Albany or west to Pemberton and Margaret River.

If you enjoyed our article on Walpole, see below in the Related Articles section for more trips in Western Australia.