Details

Category: Travel in WA
Published: Wednesday, 19 October 2011 08:12
Written by Vicki Sly

The first thing that you need to know if you are planning to visit Wave Rock in Western Australia is that there is no beach sand or surf involved.
A friend of mine tells a great story about meeting four young international tourists when they stopped to refuel at a petrol station he was working at not far from the rock.
They had surfboards tied to the roof of their car and when he asked where they were planning to surf so far from the coast they replied "Wave Rock". He had to set them straight and after they got over their initial shock and embarrassment, he reassured them that it was still well worth the visit despite the lack of swell and beach babes.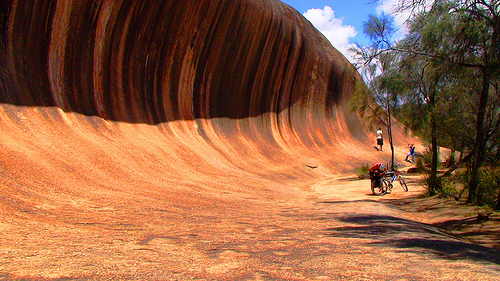 Wave Rock
Photo Credit: Flickr/Don Pugh


Wave Rock is actually 350 km east of the coastal city of Perth near the outback town of Hyden and is one of Australia's most famous landforms.
It is an amazing historic granite cliff that stands approximately 15 metres in height and is 110 metres long. It looks like a large wave that is just about to crash onto a reef.
It is believed that the rock is about 2700 million years old and has been shaped over that time by water erosion which has left a rounded overhand, just like the lip of a large wave. The multi-coloured stripes are also quite spectacular and are the result of water running down the rock face and dissolving minerals on the way.
Around the rock there are plenty of caves to explore, some with historic Aboriginal paintings and one which is named Mulka's Cave after the Aboriginal legend whose large hand imprints can sill be seen today.
There is also another funky rock in the area that is lesser-known but makes for a great photo opportunity. Hippo's Yawn stands about 12.6 metres tall and resembles the mouth of a large hippopotamus yawning. Let's hope it is a close as you will ever get to being in a hippo's mouth.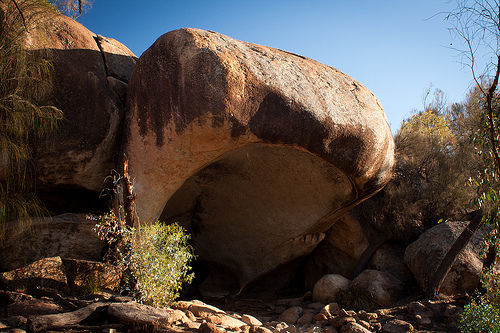 Hippo's Yawn
Photo Credit: Flickr/Stephen Edmonds


The Wave Rock Wildlife Park that surrounds the area is three hectares of bushland and filled with many native Australian animals that travellers love to see: emus, kangaroos, wallabies and many different varieties of birds.
I did lie when I said there is no water around. Only a short distance from Wave Rock is Lake Magic which is popular for sailing, canoeing and putting around in a small dingy. It is based at a resort which has family-style cottages for hire.
Other accommodation in the area includes a motel and caravan park that also has cabins so it depends on your budget and preferences.
Getting to Wave Rock:
From the northern part of Perth it is a four-hour drive through the Jarrah Forest of the Darling Ranges to historic town of York and then on through to Quairading.
From the southern part of Perth, you can drive about 3.5 hours along Albany Highway through to the farming town of Corrigin and follow the signs from there.
Do you have any photos of yourself "taking a surf" at Wave Rock that you would like to share?