Details

Category: Arts & Culture
Published: Thursday, 20 September 2018 13:03
Written by Nita Teoh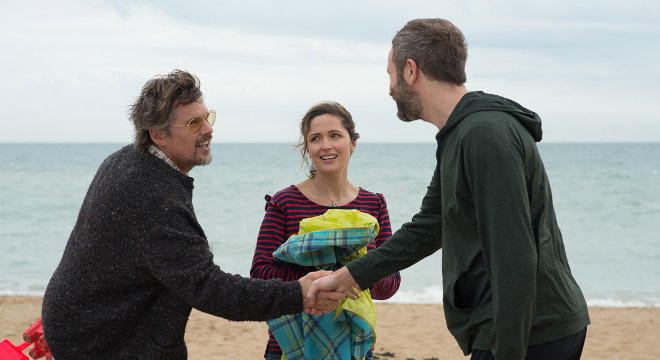 Based on the novel by Nick Hornby, the movie "Juliet, Naked" tells the story of Annie (Rose Byrne) who lives in the quiet, seaside town of Sandcliff in the UK.
In a relationship with long-time partner Duncan (Chris O'Dowd), she feels stuck as Duncan devotes most of his time to his obsession with yesteryear rock star Tucker Crowe (Ethan Hawke).
One day, Duncan is sent a stripped back demo version of Tucker Crowes' one and only album, Juliet. While Duncan is enraptured by the early versions of his favorite songs, Annie finds them dreary and uninspiring. After an argument with Duncan about the album, Annie decides to post a comment on the Tucker Crowe fan site run by Duncan, sparking a lively debate and triggering a chain of events which leaves her with more than she bargained for.
Some interesting themes that come to light in the movie include:
Chance encounters – do they really happen by chance or fate? A higher power seems to be at play – bigger than the smaller worlds in which we inhabit, shaping the way our lives evolve and intertwine with those around us.
Complexities of relationships – they get messy, and sometimes, when you don't see eye to eye with your loved one, how do you go about resolving these issues.
Artistic talent - whether it be an exquisite piece of artwork, a sublime music score or some other beautiful artistic creation, beauty is in the eye of the beholder. Even if the artist did not envision that their audience might perceive their creation in that particular way, there is no right or wrong in how it is appreciated.
Annie's character is likeable - she has a lot of heart and spunk. Having lost her father, she has her share of responsibilities and duties in life. She faces her current challenges, reconciling what she currently has and striving towards what she would like to do to add more meaning to her life. As they say, life does get complicated along the way.
All up "Juliet, Naked" is a lovely, feel good movie. It is a light hearted comedy romance with plenty of good laughs and one that also provides some food for thought along the way about life. It was a great movie to watch on the weekend with my better half at Luna as we made our way along Oxford St, Leederville to watch it. It matched perfectly the relaxed vibe of café goers on the strip enjoying another beautiful sunny Saturday morning in Perth.

Juliet, Naked opens at Luna Leederville in Perth on the 20 September.

If you enjoyed this article, please share it!


To find out about the hottest events around Perth, follow us at @PerthWalkabout