Details

Category: Arts & Culture
Published: Tuesday, 21 January 2020 10:44
Written by Nita Teoh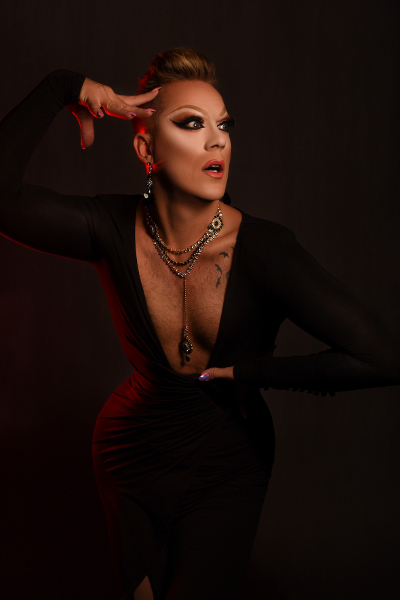 Velma Celli
Photo Credit: Me and My Divas

There was a fresh summer breeze in operation at The Woodside Pleasure Garden as we waited in line and watched the ebb and flow of Perth Fringe Festival goers passing by.

The queue of people quickly built up as we patiently waited to enter the Spiegeltent to watch Me & My Divas.

They tell you to enter the Lotterywest De Parel Spiegeltent to leave your troubles behind and that is exactly what we did.

Clutching her Diva Bible, Velma Celli - "The UK's Queen of Live Vocal Drag", started off her evening performance with a bang, showcasing some well known diva tracks, accompanied by her music director Joe Louis Robinson.

Taking a breather, Velma's rendition of a stripped down Jessie J song tore at the heart strings and so did many other diva tunes that were performed on the evening.

With a witty sense of humour and an amazing voice to boot – the combination of Velma Celli and her accompanist were a perfect duo to keep the Perth crowd entertained.

In between her impersonations of some of her favourite divas, Velma also shared her life story growing up in working class Yorkshire as a budding show biz star with 3 older sisters.

Audience participation is a risk or a prize – depending on how you view it. In a venue like the De Parel Spiegeltent you are right up close and personal – consider yourselves warned! It makes for an amazingly intimate performance though.

Velma Celli has amazing on stage presence and clearly enjoys performing and wooing the crowds (helped along by her special drink potion for the vocal cords!)  – the audience lapped it up with smiles and laughter, enjoying the sing alongs and self deprecating jokes, revelling in the threat of being part of the performance, and yelling and cheering for more.

"The UK's Queen of Live Vocal Drag" is on for the next 8 nights at none other than the Perth Fringe Festival – the best fringe around the world – not that we in Perth are biased!

Get in touch with your inner Whitney, Beyonce or Mariah at the Perth Fringe Festival with Velma Celli and Me & My Divas.

If you enjoyed this article, please share it!


To find out about the hottest events around Perth, follow us at @PerthWalkabout