Details

Category: Arts & Culture
Published: Monday, 22 May 2023 11:43
Written by Nita Teoh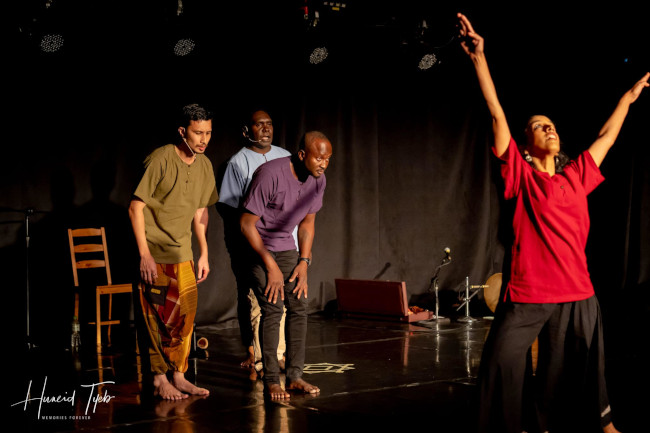 Olivier Tarbaga and WA Indian dancers from the Saraswati Mahavidhayala Centre
Photo Credit: Huneid Tyeb

As I took off my shoes to step into the Saraswati Mahavidhayala Centre for Performing Arts & Education,  I was struck by the colourful artwork on the walls -  I felt like I was entering a special sacred space.

It brought me back to a time when I used to dine at the Annalakshmi restaurant (on The Esplanade) when the lifts would go up to the restaurant and you would be transported to a magical world of Indian artwork and pieces.

This evening I was to watch the showing of local young Indian classical dancers who had been working on new works with the renowned New York Based West African Dancer / Choreographer / storyteller Olivier Tarbaga.

The 8 young dancers up on stage were lithe and agile.

At times they tensed and contorted their bodies into a worm like spasm, and at other times their movements flowed beautifully.

Sometimes one member of the dance ensemble commandeered the stage as the centre piece, while other times they worked in a twosome mirroring each other as one.

The sounds of the Afro beat drummed determinedly and incessantly with the dancers seemingly intoxicated by the beat of the drum and not cognisant of anything else around them.

And now and then the music changed to happy groovy dance music and the mood changed quite instantly with the dancers flitting lightly across the stage like beautiful butterflies.

Olivier Tarbaga has choreographed a spectacular dance piece in collaboration with the young talented Indian dancers at the Saraswati Mahavidhayala Centre.

The chapters of the dance sequence reflected the turbulence and joy of migration.

There is uncertainty as one navigates new territory - there is pain, there is joy – there is triumph and achievement that comes with assimilation into a community and a sense of belonging that comes with that as one gets adjusted. There are reflections on where we belong and how we fit into society, as well as the questioning of our identity – the common question asked by others of "where are you from"?

I can totally relate to this question – having migrated with my family to Australia at an early age and been asked this question on a regular basis.

Chitambara - the new offshoot of the Saraswati Mahavidhayala Centre is on a mission to research Gondwana – by collaborating with other performance artists in neighbouring countries on new upcoming projects.

In less than 2 weeks, renowned choreographer Olivier Tarbaga and the local young Indian classical dancers have put together an amazing showing of their talents.

The Q&A and storytelling at the end of the dance show was insightful and provided a very interesting discussion and much food for thought about the universal theme of human migration.

It was an amazing evening of the community sharing in the joy of dance and much more.
If you enjoyed this article, please share it!




To find out about the hottest events in Perth, follow us at @PerthWalkabout