Details

Category: Arts & Culture
Published: Friday, 17 May 2013 12:03
Written by Greg Letts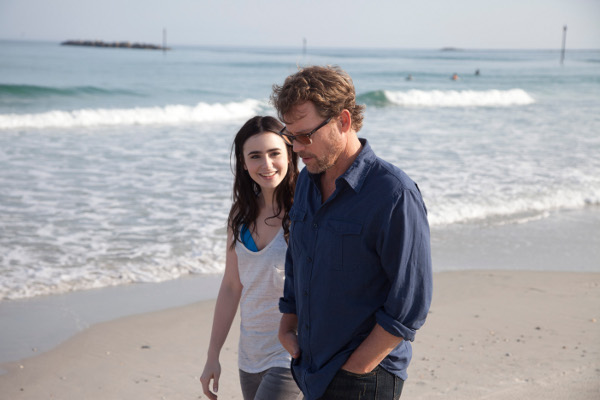 Samantha (Lily Collins) and William Borgens (Greg Kinnear)
A Place for Me, now showing at Cinema Paradiso in Northbridge, tells the story of a family of writers and the changes that occur in their lives over the course of a year. The movie begins on Thanksgiving day, where acclaimed author William Borgens (Greg Kinnear) is busy preparing Thanksgiving dinner with his son Rusty (Nat Wolff), and waiting for daughter Samantha (Lily Collins) to arrive home for the holidays. Despite being separated from his wife Erica (Jennifer Connelly) for over three years, William still sets a place at the table for her, an action which is the first hint of William's refusal to let go of his relationship.
Samantha arrives home to announce that she is having her first book published, which generates jealousy from Rusty and pride from William, which later turns to disappointment when he discovers that it is not the book that he helped her write, but another book which she wrote while away from home. But after a father-daughter heart to heart on the beach outside the family home, William manages to come to terms with his wounded pride and gets behind his daughter's achievement.
A Place for Me consists of many such scenes, where events take place according to the usual formulas seen in cinema, but they are done with such warmth, humour and with great performances from the cast, that you really don't mind. There's the promiscuous daughter Samantha, who is estranged from her mother and avoiding romantic entanglements. Rusty is the typical gentle intellectual who is a bit of a school misfit, and who is attracted to a beautiful but troubled girl. William is still stuck in time, holding onto the hope that his wife will return. And Erica is fighting with her new man and having second thoughts about whether she made the right decision to leave.
All these matters resolve in a fairly predictable way, but to be honest I quite enjoyed just sitting there and watching the story unfold without being particularly challenged by the movie. The characters are likeable and its a pleasant experience watching parts of their lives over the course of the year, finishing with a second Thanksgiving dinner and a feel good resolution to the movie.
Overall, there's nothing particularly new or confronting in A Place for Me, but there's a enjoyable mix of comedy and drama, with the cast giving great performances throughout. It's a movie that will entertain and leave you with a warm glow. It's not as gritty or bleak as Broken (which I have also watched recently and thoroughly enjoyed), but then again it's nice to watch a movie about families that isn't full of terrible violence and tragic events. Grab some popcorn, sit back and enjoy.
If you enjoyed this article, please share it!