Details

Category: Arts & Culture
Published: Wednesday, 01 February 2017 09:06
Written by Nita Teoh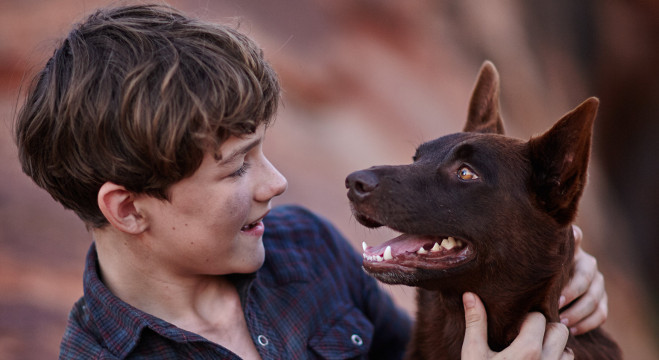 Mick (Levi Miller) & Blue the dog (Phoenix)
Red Dog True Blue

The sequel to the much loved Aussie legendary movie Red Dog is showing in cinemas across Australia.
I was lucky enough to catch Red Dog True Blue with some friends at the outdoor Community cinemas at Burswood Parklands.

A heartwarming tale that will appeal to dog lovers, it follows the story of a young boy Mick (Levi Miller) staying with his grandfather up in his cattle station in the Pilbara region of Western Australia.
The story switches between past and present - narrated by Mike as a grown man, recounting his time spent with his grandfather as a young boy.

The story is heartfelt as we follow young Mick's adventures – finding his true love in a young kelpie dog that he names Blue after discovering him abandoned and dishevelled out in the bush.
As he spends time nurturing Blue and growing up with him, the loving kelpie becomes his best friend, a best mate that he couldn't imagine life without as the loving bond between boy and dog develop.
There is never a dull moment with Blue, as young Mick gets himself into a string of adventures including having a scary encounter with spirits of the Aboriginal dreamtime that becomes way too big to handle, as he is faced with angry spirits.
For visitors and travellers to Oz, the movie provides an insight into the unique and at times harsh and remote landscape of the Pilbara region of Western Australia.
Red Dog True Blue is a heartfelt tale for dog lovers, and also a suitable one for the family and kids.
The Telethon Community Cinemas is a great cause as well with proceeds from all the movie tickets going to a number of charities in WA.
Proceeds from movie tickets go towards assisting charities to help enhance the quality of life of children in a health or physical ability crisis. This season proceeds will go towards Channel 7 Telethon, Edmund Rice Camps WA, and Riding for the Disabled Swan Valley.
Enjoy the outdoor movie season in Perth whilst you can.
There will be a couple more screenings of Red Dog True Blue at the Burswood Outdoor Community Cinemas - 8 February at Bassendean and 26 February at Burswood. The movie also opens tonight 1 Feb at Luna Palace – Cinema Paradiso in Northbridge and Windsor in Nedlands.
If you enjoyed this article, please share it!
Nita Teoh enjoys exploring Perth by foot and letting readers know about what's going in Perth.
She also loves spending time with dogs (Labradors in particular). Labradors are the best! - you know who you are! :-)
For the hottest events around Perth, follow us at @PerthWalkabout