Details

Category: Events
Published: Thursday, 21 February 2013 14:41
Written by Greg Letts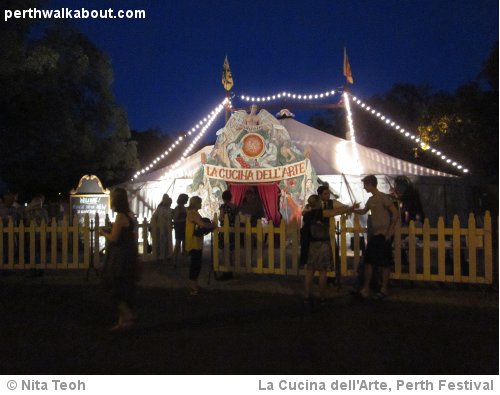 Last night my partner and I were fortunate enough to snag a couple of seats for Circus Ronaldo's performance of La Cucina dell'Arte as part of the Perth Festival for 2013. The shows have been selling out, so we weren't surprised to find a large mass of people milling around before the show opened in Russell Square at 8pm. While waiting for the show to begin, the crowd was serenaded by a busking didgeridoo player, whose stone-age sound contrasted nicely with the Renaissance style art of the Circus Ronaldo billboarding.
It was another warm Perth night, but the bar was open inside the circus tent for refreshments before the show, and there were also free water coolers available to the thirsty patrons. However, it's probably a good idea not to overdo the drinks, since the show is about 75 minutes long, with no interval and no pass outs. We did see one gentleman leave about half way through the show, but it may have been due to the heat inside the tent, since with several hundred patrons packed into seating more suited for sardines than people, it seemed more likely that the audience would pass out in their seats instead of asking for a pass out. In fact, if I had got any closer to the lady seated on my right I would have needed special protection.
Fortunately the support staff were handing out programmes for the show, which made quite decent fans in a pinch. The audience was a blur of waving black and white paper prior to the start of proceedings, but once the lights went down and the performers appeared, we soon forgot all about the heat as we watched Danny and David Ronaldo light up the stage.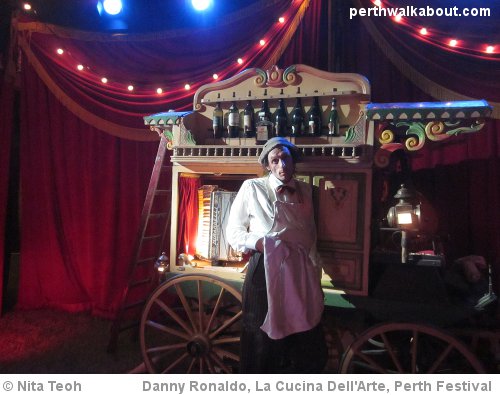 When reviewing a comedy performance like this, I hesitate to describe too much of the act since I don't want to ruin the surprise for anybody yet to see it. But suffice it to say that during the next 75 minutes, the audience and I were privileged to watch two masters of commedia dell'arte (a stylised form of popular comedy that began in the 16th and 17th centuries, according to the program) at work. Both brothers used a minimum of words, relying instead on gestures, facial expressions and actions to tell the story of a busy pizzeria at work.
Add in generous toppings of acrobatics, slapstick, some snarky humour (which my partner definitely loved!), plate spinning, a sprinkling of magic and even a little audience participation, and Danny and David Ronaldo served up a mean pizza and a hugely entertaining night. With over 300 performances of La Cucina dell'Arte, the brothers have their shtick down slick, but still perform with energy, enthusiasm and a genuine love for their show which shines through for all to see.
Although the performances have been selling out, I believe a few more seats have been made available. Beg, borrow or steal a ticket, or sit on somebody's lap if you must, but make sure you hurry down to Russell Square to get a slice of the action!
More Details
Event: La Cucina dell'Arte
Production: Circus Ronaldo
Presented by: Perth International Arts Festival
Dates: 9 February to 25 February 2013

Time: 8pm start, doors open at 730pm

Duration: 70 minutes

For more info and tickets visit Ticketek


For more Related Articles, please scroll to the bottom of this page.
If you enjoyed this article, please share it!