Details

Category: Perth Restaurant Reviews
Published: Friday, 29 June 2012 08:12
Written by Emily Cordz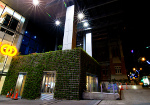 Some days you just don't feel like cooking or doing the dishes afterwards. You decide you're going to eat out. But where is an eco-conscious consumer to go that will give them a good meal and still support their efforts for a more sustainable world? You're in luck.

Below I've compiled a list of several restaurants that source many, if not all, their ingredients from local producers around Perth and Western Australia.