Details

Category: Great Outdoors
Published: Wednesday, 01 February 2012 10:37
Written by John Durey





This is a guest post by John Durey, POPP.

Public Outdoor Ping Pong is POPP. We make outdoor ping pong tables from 700kg of steel and we get local artists to do their artwork.
Each table is a non-porous steel canvas and we encourage the artist to do whatever they feel would be most daring. There are no briefs or limitations. Sean Morris illustrated a beast with a severed head and severed limbs and Jae Criddle trapped a man with wings, or a pheasant on his back - depending on the angle.




Artist: Sean Morris
Location: Weld Square , Beaufort Street, Northbridge
Photo Credit: POPP


The tables then end up in public - parks, open spaces, town squares. People kind of look at them at first, ponder the artwork and sometimes they work out that they can play ping pong on them, too.
They're free to use by anyone, no matter what age or skill level. Everyone has fun and chances are you will start chatting with someone you may never have otherwise met.
It's great when we see people using them. We found out how fun they were when we lived in Berlin. Day in, day out we would play on one of the hundreds of tables throughout the city's parks and civic spaces. Endless and incredibly tiring amounts of fun.
In Australia, we have tables installed in Surry Hills, Fitzroy, Brunswick, Mornington Peninsula, Port Hedland, the Whitsundays, Darwin, Northbridge and Fremantle, to name a few places. There are more and more coming, too.
They're a new medium for public art and a new form of informal recreation for communities, and you don't have to do any public pelvic thrusts or lunges - fist pumps are way cooler.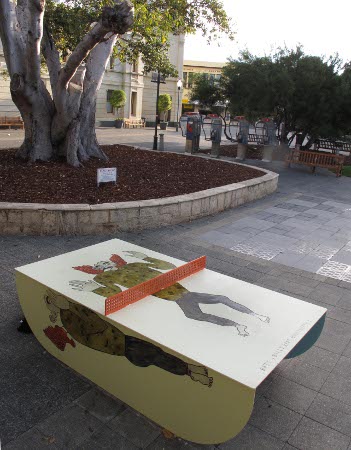 Artist: Jae Criddle
Location: Kings Square, Fremantle, WA
Photo Credit: POPP


You can find POPP in Perth at the following locations:

Northbridge Piazza, Lake Street, Northbridge

Kings Square, William Street, Fremantle

Terry Tyzack Aquatic Centre, Alexander Drive, Inglewood (no longer located here)

Trinity at Alkimos


For media enquiries about POPP, contact John Durey – This email address is being protected from spambots. You need JavaScript enabled to view it.

Have you tried your hand at POPP?

What did you think?

Add your comments below.
Related Articles: