Details

Published: Wednesday, 16 February 2022 08:04
Written by Nita Teoh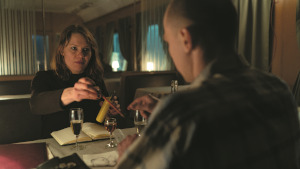 "Two strangers share a journey through Russia that changes their perspective on life"

The storyline of Perth Festival's latest movie offering Compartment No. 6 greatly appealed and with our Charlies Pizza order locked in for the evening (which has become something of a tasty tradition!), my partner and I headed to UWA Somerville, along with temporary third family member Greg the Ambassador Dog for Guide Dogs WA.

The plot of Compartment No. 6 revolves around the main character Laura (acted by Seidi Haarla) - a Finnish archaelogy student studying in Russia, who decides to travel via train to Murmansk with her Russian girlfriend to see the petroglyphs (rock paintings). At the last minute her girlfriend has to cancel due to work, and Laura decides to travel on her own.

As the train heads to the Arctic Circle, Laura is forced to share a cramped sleeper compartment with a travelling companion from hell...