Details

Published: Friday, 23 July 2021 09:23
Written by Lee-Ann Khoh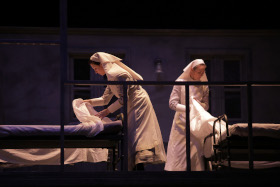 As I write this review, Boorloo/Perth is pretty much free of COVID restrictions. But as I walked through the rain, past Yagan Square and into the State Theatre Centre to catch a performance of York (which had itself been delayed due to COVID) three other states were in lockdown, and I couldn't help thinking, not only about how lucky I was to be out and about, but also how privileged I have been in so many ways throughout my life. And how not everyone gets to enjoy the things I take for granted.
York, written by Ian Michael and Chris Isaacs, is certainly ambitious – spanning two centuries of Western Australian history in two hour-long acts. We begin the play in the current day, with tree changing couple Emma and Rosy moving into the Old York Hospital, now a private residence. Emma, a lawyer, is soon called back to the city to defend one of her juvenile clients, leaving Rosy to unpack their boxes with the help of their new neighbour – who is clearly terrified of the house.