Details

Published: Wednesday, 05 May 2021 09:20
Written by Lee-Ann Khoh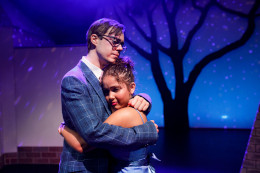 Whoa.

That was my immediate reaction after Playthings. For various, mostly COVID-related reasons, I hadn't gone to the theatre in over a year so it was good to get back into it with a production that exemplifies just how brilliant it can be.

Amidst Perth's lockdown, there had been doubt about whether this show would go ahead. And with everyone in attendance required to wear masks, the threat of COVID lingered in the air. One of the first things we noticed when we took our seats was the eerie shadow of the trees arching over the two houses, setting the scene for what was about to unfold.

At the start of Playthings, 13-year-old classmates Lucy (played by Courtney Henri) and Arnold (Daniel Buckle) sneak away from home to meet in the bush. "Have you ever seen a dead body?" Lucy casually asks, before showing Arnold a dying kangaroo.