Details

Published: Monday, 06 July 2020 09:58
Written by Nita Teoh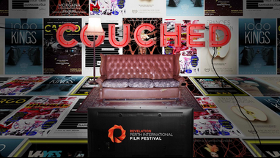 Fancy a double dose of the Rev Film Festival in 2020 ?!

For the past few months, we have hit the pause button on just about everything in Perth due to covid.

But not any longer!

The Revelation Film Festival returns with a vengeance!

And we are in for a double shot of the #RevFilmFest this year.

First up this month will be Rev Couched! - the digital film festival kicks off on 9 July for a 10 day marathon.

Then in December, The Rev Film Festival will revert back to a physical event where we will be able to attend in person. Yay!

Rev Couched! will feature 30 plus brand new international films from across the globe consisting of features, short films, live streams, talks and more with a good dose of Aussie films and local talent.

Perth Walkabout's Top 7 picks from Rev Couched are as follows:

The Florist premieres as a feature film at this year's Rev Couched.

Careerist millennial Annika (Rebecca Murphy – also as the producer) makes her living selling edible hypnotic flowers to trendy eateries in Los Angeles. Business appears to be going well till she hears that her competitors are moving in, so she has to act fast.