Details

Category: Living in Perth
Published: Tuesday, 29 January 2013 09:14
Written by InterNations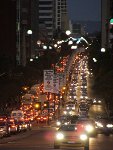 Like most major cities in Australia, Perth is a very diverse metropolis.

The state capital of Western Australia attracts plenty of international tourists (700,000 overseas visitors in 2011), as well as expatriates and immigrants.

Most recent arrivals originate from other English-speaking countries, such as New Zealand, South Africa, and the UK, and from an array of Asian countries.

It doesn't come as a surprise that nearly 50% of all people in Perth don't speak English at home: they prefer their native languages instead.
There are several reasons for Perth's popularity.