Details

Category: Great Outdoors
Published: Sunday, 09 January 2011 07:04
Written by Lee-Ann Khoh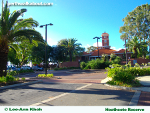 Point Heathcote Reserve in Applecross is made up of picturesque gardens and heritage buildings, overlooking the Swan River and the Perth cityscape in the distance. Once the site of Heathcote Mental Reception Home, it is now a heritage listed open space for the public to enjoy. Challenger TAFE also has a campus on Heathcote Reserve and manages the Kitchen Building and Swan House.