Details

Category: Great Outdoors
Published: Sunday, 28 November 2010 02:11
Written by Lee-Ann Khoh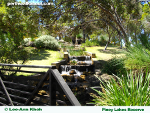 Piney Lakes Reserve is a peaceful and beautiful 68-hectare space for conservation and recreation, located in the southern suburb of Winthrop. 50 hectares of native bushland and wetlands occupy the northern and western parts of Piney Lakes.

The southern and eastern ends of the reserve are made up of developed parklands, with the focal point being the sensory playground and adjacent lake off Murdoch Drive. Piney Lakes is ideal as a family friendly picnic and play area, with lots of clean open spaces and paths for walking, jogging and cycling.