Details

Category: Travel in WA
Published: Wednesday, 08 August 2012 10:56
Written by Shana Chong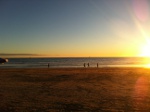 To get away from the winter blues, look no further than Broome as your next getaway. It's only taken me so long to visit this breathtaking town. From the minute you touch down at Broome International Airport, you know you've left winter behind. All the airport ground staff are in shorts and summer shirts, and sporting deep tans.
Our first evening in Broome is unforgettable.