Details

Category: Travel in WA
Published: Friday, 22 June 2012 10:14
Written by Bob Figg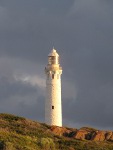 Previously in the shadow Margaret River 60 kilometres to the north, the once almost ignored sleepy hollow of Augusta is starting to shape up as the next hot spot on Western Australia's long list of top coastal destinations.
For a start it is one of those rare spots in the WA where you can see the sun rise over the ocean. It is also one of the even less common places where you can have your photo taken across a line that bisects two oceans.
With access to the Blackwood River on one hand and the Indian and Southern oceans on the other, those into fishing or boating can take their pick. During the whale watching season (June to September) Southern Right and Humpback Whales come into Flinders Bay, so close you feel you could reach out and touch them.