Details

Category: Arts & Culture
Published: Thursday, 14 February 2019 11:07
Written by Nita Teoh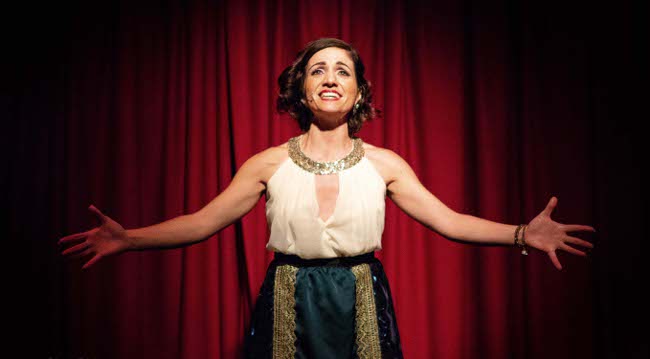 Michaela Burger, A Migrant's Son, Fringe Perth 2019
Photo Credit: Anne-Laure Marie

As my partner and I waited outside Cathedral Square on St George's Terrace, we were greeted by large droplets of cooling summer rain whilst enjoying the multi-coloured aura of the City of Perth Council House building.
We were here to watch our last show of Fringe Perth for the year – the cabaret A Migrant's Son.
Winner of the 2015 International Cabaret Contest and co-writer and star of the stage show Exposing Edith (on the life and times of Edith Piaf), Michaela Burger appeared on stage brimming with energy.
Throughout the course of the evening, she entertained us with stories about her family as new migrants to Australia from Greece.
Brought up in an environment where "family is everything", she reflected on her admiration for her father who had everlasting persistence to provide well for his family, and for her grandmother Ya-Ya – whose strength and resilience held the family together through many a triumph and tragedy.
Michaela has the ability to inspire and to make you laugh with the interesting stories that she shares about the life and times of her family – from opal mining in Coober Pedy, through to running illegal poker machines (by accident!), and creating the Rite Price Grocery Clearance discount food chain.
She has an amazing voice and combined with her upbeat personality on stage, she created a memorable evening for the audience. The love for her family and the passion for her creative talents shines through vividly.
The harmonious sounds of the local Indie Mix Pop Choir added a nice touch to the evening's proceedings.
We left the performance on a high note after an enjoyable night's entertainment, whilst also reflecting on the ebb and flow and ups and downs of family life that are universally shared as one experiences life from youth to old age.
There will be 3 more shows of A Migrant's Son as part of Fringe World Perth - tonight, tomorrow and Saturday evening.

They will all be performed at the Upper Burt Hall of Cathedral Square.

If you enjoyed this article, please share it!


To find out about the hottest events around Perth, follow us at @PerthWalkabout