Details

Category: Arts & Culture
Published: Wednesday, 20 February 2019 09:59
Written by Greg Letts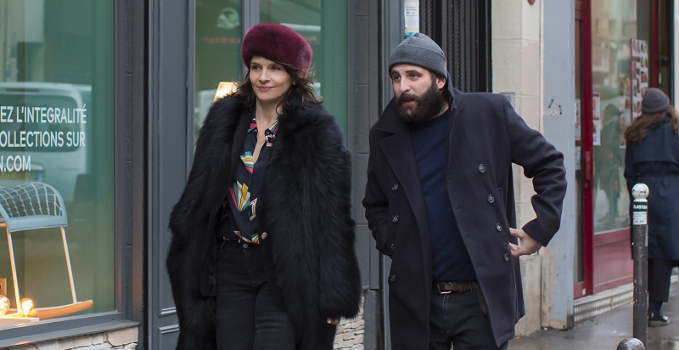 Juliette Binoche (as Selena), Vincent Macaigne (as Leonard Spiegel), in Non-Fiction
Photo Credit: Non-Fiction


After settling into our seats at the UWA Somerville theatre on a mellow Monday night, my partner and I were looking forward to checking out the French movie Non-Fiction, by director Olivier Assayas.

The advertising blurb for Non-Fiction stated "This droll, very contemporary drama probes literature, relationships, art and online culture... Over a series of meetings and sparkling, rapid-fire conversations Alain, Selena and Léonard reveal that their professional and personal affairs are connected in surprising ways."

While not wishing to give away the plot, the film revolves largely around book publisher Alain and his TV actress wife Selena, who are friends with writer Léonard. Léonard has a new manuscript, but after many years of working together, Alain has decided not to publish Léonard's latest effort. With the publishing industry providing a loose backdrop to the character relationships, we are treated to a dialogue heavy examination of the impact of technology upon people's book reading and purchasing habits, along with some side treks into politics, the use of real people in artistic works, and of course the traditional French attitude to marriage and affairs.

To loosely paraphrase one of the phrases mentioned in the film - "everything must change in order to stay the same". And by the end of Non-Fiction, we can see how this phrase relates to the movie and its characters – even with all the wonders of modern technology, people still write, people still read, people still get married, and people still have affairs. For all the discussion and actions taken by the characters, by the end of the movie we find that basically not much has changed about their lives (with the possible exception of Léonard and wife Valérie).

I found myself in much of the same situation while watching Non-Fiction – shifting back and forth between interest and tedium. The initial scene between Alain and Léonard lost my attention, but then the discussion of book publishing, e-books and blogging was quite interesting. But over the course of the movie the repetition of the "technology in publishing" dialogue began to wear thin, while the interactions between the characters got more involving. So by the end of Non-Fiction I was back where I started – ready to see what happens next, at which point the movie comes to a full stop. Ah well.

Overall, it was an enjoyable evening spent watching Non-Fiction nestled amongst the ambient pine-filled setting at UWA Somerville.

Non-Fiction is on as part of the Perth Festival at UWA Somerville until the 24 February, and then at ECU Joondalup Pines from the 26th February to the 3rd March.

If you enjoyed this article, please share it!


To find out about the hottest events around Perth, follow us at @PerthWalkabout