Details

Category: Arts & Culture
Published: Monday, 22 October 2018 09:29
Written by Nita Teoh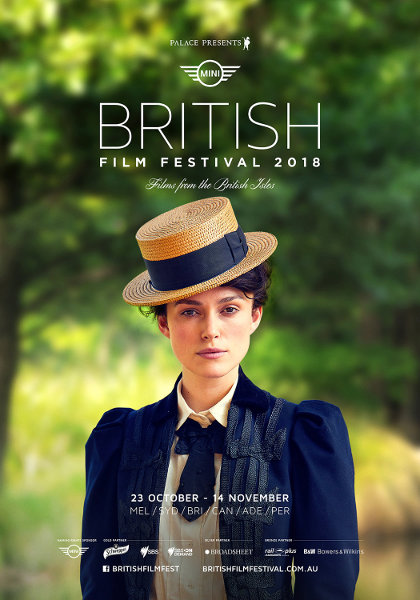 Photo Credit: 2018 MINI British Film Festival, Perth
Less than a week away, the British Film Festival will grace our screens in Perth from the 25th October to the 14th November.

It will feature films spanning a variety of genres and times – from the Swinging 60's to modern days - including those paying tribute to film legend Michael Caine, war movies, and family classics such as Paddington Bear and Mary Poppins.

Our top 5 movie picks from this year's #BritishFilmFest are:
Colette
Nominated for the People's Choice Award – Special Presentations, Toronto International Film Festival 2018 "Colette" will premiere at the Opening Night of the #BritishFilmFest.
At the dawn of the feminist age, Colette tells the story of twentieth century writer who is swept into the world of high society when she arrives from the countryside betrothed to literary entrepreneur Henry Gauthier-Willars ("Willy"). Her autobiographical novels based around the character Claudine become famous in Paris, though since Willy decides to take the credit, she is left out in the cold.
Featuring Keira Knightley (of Atonement) as Colette – she embarks on a journey to stand up for herself that challenges societal issues of identity, equality, and feminism during an interesting period in Parisian history.
The Children Act
What would it feel like to be responsible for making a critical life or death decision for someone else?

Adapted by Booker Prize-winning author Ian McEwan from his own novel, The Children Act - Judge Fiona Maye (played by two time Academy Award winner Emma Thompson) is a British High Court judge who has to make a decision that could mean life or death for a young man. His family are Jehovah's witnesses and do not wish their 17 year old son who has leukaemia to receive a life-saving blood transfusion.

Married to her work, Judge Fiona's own family stress escalates when her husband tells her that he wants an affair.

Winner of the Andreas Award, Norwegian International Film Festival 2018.
Swimming with Men
Swimming with Men is a heart-warming comedy that centres on the main character Eric – a 40 something year old who feels stuck in a rut. With his life generally in a mess, Eric turns to the company of a group of middle aged men who meet up at their local pool to master synchronised swimming, which takes them places that they did not envisage. This one is a feel good comedy from BAFTA nominee Oliver Parker (Johnny English Reborn 2011, Dad's Army 2016).

Official Selection at the Closing Night Gala, Edinburgh Film Festival 2018.
Sometimes, Always, Never
Sometimes, Always, Never is a comedy drama about a father Alan's search for a lost son. After a heated game of Scrabble, his eldest son Michael stormed out of the house never to return. At the same time, Alan also has to deal with another strained relationship with his other son Pete. Veteran screenwriter Frank Cottrell-Boyce delivers a witty script about a family who though very adept at playing Scrabble, can't find the right words in their communications with each other.
Official Selection at the BFI London Film Festival 2018.
My Generation
My Generation takes us on an insider's tour through the Swinging 60's.
It was a period of decadence when the young generation enjoyed the heady days of music and fashion to excess – think Beatles mania, Rolling Stones, Marianne Faithfull, and fashion icons such as Twiggy and Mary Quant.
Iconic British actor Michael Caine shares some interesting and funny stories about his journey to stardom when he first started out in the film industry as a young Cockney man some 60 years ago.
He was well known for his feature roles in the King of Thieves, Alfie, The Italian Job and featured in excess of 100 films.
The documentary My Generation takes a nostalgic trip down memory lane to capture the heyday of the Swinging 60's in Britain along with interesting perspectives on the social upheaval that occurred during this period.


The British Film Festival 2018 will be on from the 25th October to the 14th November at Palace Cinema Paradiso in Northbridge, Luna on SX in Fremantle, Windsor Cinema in Nedlands and Palace Rain Square Cinemas in the Perth CBD.

#BritishFilmFest
Event Details
Event: 2018 MINI British Film Festival

Date: 25 October to 14 November 2018
Venues: Palace Cinema Paradiso in Northbridge, Luna on SX in Fremantle, Windsor Cinema in Nedlands and Palace Rain Square Cinemas in the Perth CBD.

More Info: For festival program details and to purchase tickets online, visit the British Film Festival website.

If you enjoyed this article, please share it!



To find out about the hottest events around Perth, follow us at @PerthWalkabout