Details

Category: Arts & Culture
Published: Wednesday, 24 April 2019 11:01
Written by Nita Teoh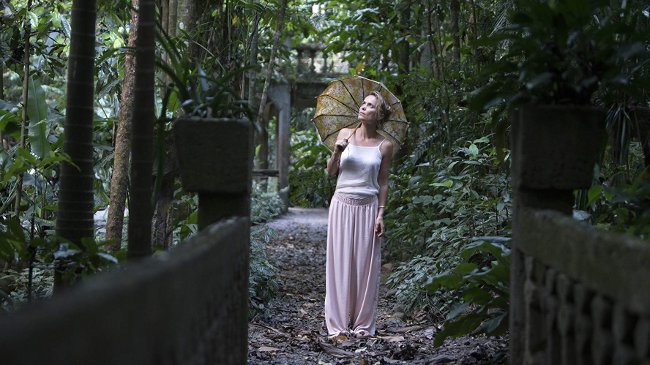 Radha Mitchell (as Celeste)
Photo Credit: Celeste
What happens when the past catches up with you?

The movie Celeste is a hauntingly beautiful story involving love and loss. It is about a once famous opera singer Celeste (Radha Mitchell) who at the peak of her international career gave up everything to be with her one true love, who then died in a tragic accident.

Reconciling the past is not an easy thing when heart break and anguish are lurking just below the surface.

Fast forward 10 years to the present, and Celeste is still struggling with the aftermath of her lover's death - battling to live day to day, yearning for the past, with things never ever to be the same again. She has by her side her loyal friend Grace who helps her to pick up the pieces of her shattered life.

The movie is set in tropical Far North Queensland – a lush paradisiacal rain forest with beautiful waterfalls. Filmed on location at Paronella Park, near Innisfail, it's a spectacular location.

Celeste the movie is about a lot of things - the ebb and flow of life, beauty and tragedy, and what happens when the human spirit breaks, and whether you can recover from adversity.

When Celeste's step son Jack returns for a visit it rekindles their complicated relationship and brings to the surface past events that had been burned deep in their souls.

Celeste decides to make one final return to the stage, with the movie culminating in a tumultuous and turbulent ending shortly thereafter.

Radha Mitchell plays her role beautifully and received the Cannes Film Festival's Atelier Incubator for outstanding new talent.

Celeste is a hauntingly beautiful movie with a story and location reflective of filmmaker's Ben Hackworth trademark cinematic style. It has been a long time between drinks since Hackworth's Corroboree (2007), but well worth the wait.

It will suit movie goers who enjoy immersing themselves in a story about love and loss amidst the heavenly backdrop of Far North Queensland. Celeste is a reflective and poignant story about the choices we make in life and what could have been versus what is.

Celeste opens on the 25 April at Luna Leederville.
If you enjoyed this article, please share it!


To find out about the hottest events around Perth, follow us at @PerthWalkabout