Details

Category: Arts & Culture
Published: Friday, 22 March 2019 16:03
Written by Greg Letts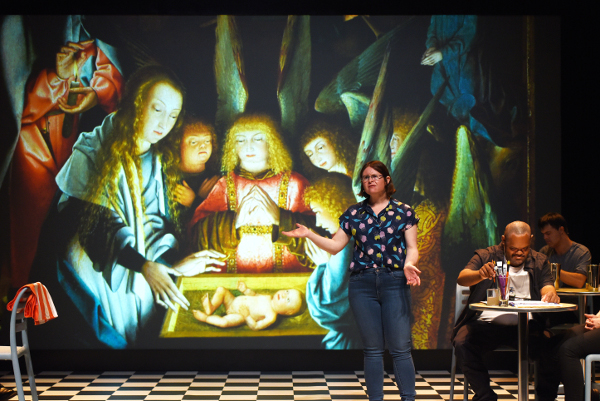 Julia Hales, You Know We Belong Together
Photo Credit:Toni Wilkinson

You Know We Belong Together is a live documentary about people looking to find love, fulfil their dreams and find acceptance in today's society – a fairly typical theme. What is not so routine is that lead artist and co-creator Julia Hales and her cast all bring a little something extra to the stage – a third copy of chromosome 21. You Know We Belong Together is a live documentary about people with Down syndrome and their hopes, dreams, loves, families and friends – and a passion for Home and Away!

In a world where the disabled are often overlooked and placed in the background, it was refreshing to see these performers take centre stage and command the audience's attention. Julia and co-writer Finn O'Branagáin use a mix of live action and video footage to tell the stories of the performers in an engaging and entertaining production – and even manage to get a little help from the audience along the way!

Julia is the host and lynchpin of the show, and does a wonderful job of directing proceedings while bringing the audience into the world of her friends and fellow cast members. The production set, a riff on Home and Away's diner, allows for everybody to have their moment in the spotlight but to also remain on stage in a natural feeling environment.

Thanks to Julia's engaging personality, comic timing, and confident performance, the 70 minutes of You Know We Belong Together breezes along just like a typical afternoon at Summer Bay. There is a touch of education about Down syndrome thrown in as necessary exposition, and the challenges of having Down syndrome are acknowledged, but things are handled with a light touch. The focus is definitely on what amazing things these people can do, rather than what can't be done.

While You Know We Belong Together does a fine job of encouraging more inclusivity and awareness of disability in society and the performing arts, it also stands on its own two feet as an entertaining and enjoyable evening of theatre that will have you leaving the venue with a broad smile on your face and possibly a slightly broader mind too. With the 21st March being World Down Syndrome Day, You Know We Belong Together is well worth missing Home and Away for!

You Know We Belong Together by Black Swan State Theatre Company is showing at the State Theatre Centre of WA until 31 March.

If you enjoyed this article, please share it!


To find out about the hottest events around Perth, follow us at @PerthWalkabout