Details

Category: Arts & Culture
Published: Saturday, 19 January 2019 09:34
Written by Nita Teoh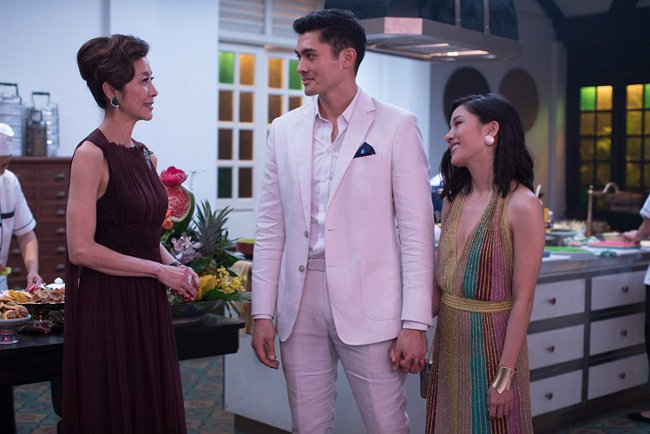 Michelle Yeoh (as Eleanor Young), Henry Golding (as Nick Young), Constance Wu (as Rachel Chu)
Photo Credit: Crazy Rich Asians

On a balmy Friday evening, we headed off to Kings Park to watch Crazy Rich Asians as part of the line-up of outdoor movies at the Moonlight Cinema.
A modern fairy tale love story (a romantic comedy) where rich boy meets working girl and all is perfect until the cultured boy takes the brash New York girl to meet his family back home in Singapore. This is the storyline of Crazy Rich Asians starring Henry Golding (as Nick Young) and Constance Wu (as Rachel Chu).
What makes this mainstream movie unique is its All Asian cast (with actors from around the globe), which has prompted more movie goers to see it due to the curiosity factor. Though different in its all Asian roster, the theme of the interplay between family dynamics, social status, and self-worth as an individual is something members of all cultures can relate to.
It has hit box office records in America and now Australia as one of the top rom-com's of all time.
The movie gives interesting insights into the South East Asian culture – where money, materialism and power play an important role in determining status in society.
Throw in lots of family dynamics, traditions and peer influences – and it makes for an entertaining 2 hours of glitz and glamour done the Asian way.
The modern skyscrapers and heritage buildings (Peranakan style) of Singapore create a slick setting for the movie, along with the very enticing showcasing of tasty food – from street hawker style through to the family tradition of dumpling making handed down over the generations.
Particularly enjoyable was Malaysian - Ipoh born Michelle Yeoh's role as Eleanor Young - the iron fisted mother of Nick. Yeoh has become famous for her many roles over the years including Crouching Tiger,  Hidden Dragon and the Bond movie Tomorrow Never Dies, and in Crazy Rich Asians she puts in another riveting performance.
If you are after a light and bright feel good movie with an Asian twist, boy meets girl (and live happily ever after or maybe not) then Crazy Rich Asians is a good pick, and a step towards more diversity in the world of Hollywood. It would also be great to see other angles and takes on Asian society in addition to the stereotypical portrayal of materialistic wealth equates to success as viewed by society.
The line-up of outdoor movies at Moonlight Cinema in Kings Park will continue over summer till the end of March.
If travelling by car, the easiest way is to access Kings Park via Saw Avenue, then turn right and head towards the May Drive Parklands to park. You will see the big screen on your left as you walk into the Parklands.
Thank you to Moonlight Cinema for being #guidedogfriendly, and well done to Enjar – guide dog in training with Guide Dogs WA who enjoyed the movie.

If you enjoyed this article, please share it!