Details

Category: Arts & Culture
Published: Friday, 27 August 2021 09:30
Written by Lee-Ann Khoh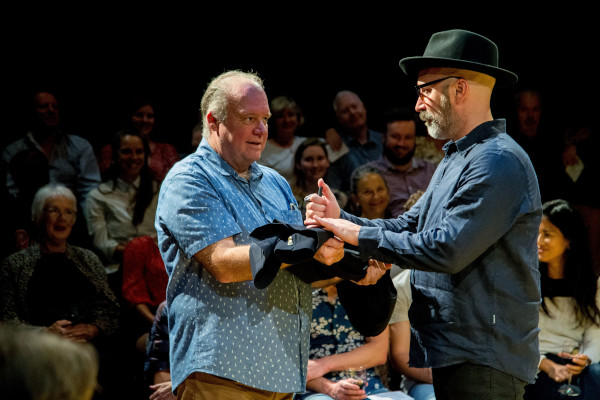 Luke Hewitt, Every Brilliant Thing, Black Swan State Theatre Company
Photo Credit: Marg Bertling
Written by playwright Duncan Macmillan and comedian Jonny Donahoe, Every Brilliant Thing has been touted as a funny play about depression – a description that certainly got my attention even before I went to see it. And what I got was… well, a funny play about depression. And so much more.

Every Brilliant Thing has only one cast member – in this case, Luke Hewitt – playing an unnamed character who narrates the story of his life, beginning with his mother's first suicide attempt. The then-seven-year-old child begins writing a list of the brilliant little things that make life worth living. Over the years, he revisits the list, as he grows into adolescence and adulthood, and his mother makes further suicide attempts.

But while there's only one cast member, audience members are called on to play other characters and read from the narrator's list of things. The interactive element is what makes the show, giving it a certain unpredictability that reflects real life. Having said that, Hewitt really does carry the play with his engaging performance and great comedic timing.

Every Brilliant Thing was equal parts touching and hilarious, encouraging us to think about issues of mental health in a welcoming environment – and perhaps even practise gratitude over the course of an hour and a half. Given the current state of the world, it's a very topical play. Sometimes laughter is, maybe not the best, but an important medicine for the cabinet.

Every Brilliant Thing, presented by Black Swan State Theatre Company, is on at Studio Underground at the State Theatre Centre of WA until 18 September.
If you enjoyed this article, please share it!



To find out about the hottest events in Perth, follow us at @PerthWalkabout