Details

Category: Arts & Culture
Published: Wednesday, 25 September 2019 16:19
Written by Nita Teoh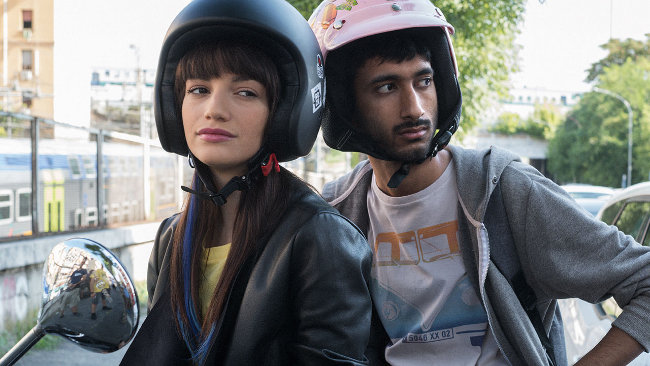 Carlotta Antonelli (as Asia) and Phaim Bhuiyan (as Phaim)
Photo Credit: Bangla


The Lavazza Italian Film Festival is off and running in Perth, with a wide range of movies to suit all tastes.
Here are Perth Walkabout's top picks for the festival:
Bangla
For those looking for a romantic comedy, Bangla is a fun and light hearted romp where boy meets girl from very different sides of the neighbourhood. The story of Bangla follows the budding romance between 22 year old Phaim (who is born in Italy and whose Muslim parents are from Bangladesh) and a modern Italian girl Asia (Carlotta Antonelli).
As the relationship progresses, Phaim is forced to confront the conflicts between his family and religious values (e.g. no alcohol, no sex before marriage) as he falls head over heels in love with the impulsive Asia.
A contemporary and witty look at multicultural love in current day Italy, Director Phaim Bhuiyan's debut film Bangla has made an outstanding contribution to modern cinema.
It won Winner of Best First Feature, Golden Globes Italy, 2019.
And here are Perth Walkabout's five movie picks selected from the 2019 Italian Film Festival Program Guide:


Loro: the Director's Cut
" Following last year's presentation of the international theatrical cut created for the World Premiere at the Toronto International Film Festival, this year audiences have the opportunity to see the director's cut of one of the most talked-about opening night films in the festival's 20-year history.
With Loro: the Director's Cut, Academy Award winning director Paolo Sorrentino gradually unpeels the complex personality and motivations of scandal-plagued former Prime Minister Silvio Berlusconi during a tumultuous period in his career, as his marriage to second wife Veronica Lario (Elena Sofia Ricci) fractures; all the while skilfully threading together stories of a wide variety of characters from multiple levels of society and their attempts to either ingratiate or distance themselves from him...
Viewers sensitive to depictions of unfettered wealth, debauchery and sex: consider yourselves forewarned. Everyone else: strap in for a wild, unforgettable ride."


P

romised
" Featuring a stellar Italian-Australian cast including Paul Mercurio and Tina Arena, Promised is a romantic drama that is certain to hit home. In Melbourne in 1953, five year old Robert (Daniel Berini) and newborn Angela (Antoniette Iesue) are promised in marriage by their fathers, Sal (Mercurio) and Joe.
Against the misgivings of Angela's mother (Arena), Sal is insistent that he must uphold his promise to Joe – a connected man.
Fast forward to 1974, and Angela is now a beautiful, intelligent and modern lady whose aspirations lie well beyond the family pastry shop. Robert, now 25, has just returned home from studying law abroad at Oxford. Despite changing times, fading traditions and Angela's love for another man, she is still expected to marry Robert.

As a web of secrets, lies and revelations surface, it teaches everyone involved that love, like life, can never be perfectly arranged. "



Tomorrow's a New Day
DOMANI È UN ALTRO GIORNO
" Italian greats Marco Giallini and Valerio Mastandrea star in this exceptional remake of the multi awardwinning Spanish-Argentinian favourite Truman, imbued with a very Roman flavour. When theatre actor Giuliano (Giallini) receives an unexpected visit from his childhood friend Tommasso (Mastandrea), the encounter is bittersweet.
This reunion is their first meeting in many years, triggered by Giuliano's failing health and his decision to forgo treatment. Instead he is focussed on putting his affairs in order: distributing possessions, reconciling past disputes, and, most importantly, finding a home for his beloved canine, Pato. Over four days, the two men walk the streets of Rome, visiting bookshops, restaurants, veterinarians and friends, examining their lives and speculating on what the future holds.
This is a funny, heartfelt portrait of friendship, and life's unexpected ups and downs that retains the strength and modesty of the original film, while contributing additional moments of melancholy, humour and typical Roman disenchantment. "
An Almost Ordinary Summer
CROCE E DELIZIA

" Two very different families spend their holidays in the same house by the seaside: the aristocratic Castelvecchios are open-minded and eccentric, whereas the working-class Petagnas are tight-knit southerners united around their firm family values.

Only the two middle-aged heads of the families know what has brought such distant worlds together on this summer holiday. When an unexpected engagement is announced, the lives of all are turned upside down. With the wedding already set for three weeks, chaos and catastrophe reign on this seemingly ordinary summer.

By playfully poking fun at Italian stereotypes, director Simone Godano presents the rivalry between loud southerners and their uppity northern counterparts with raw wit and sensitivity.

Gorgeous Mediterranean scenery and a stunning cast including Alessandro Gasmann and Jasmine Trinca make this comedy a pure delight. "


Pavarotti

" Luciano Pavarotti's charm, charisma, and impressive ability to hit the high-C earned him a level of renown on par with the biggest pop stars. He brought opera to the masses and in acclaimed director Ron Howard's inspiring documentary, it is easy to see why.

Luciano Pavarotti is one of the most famous tenors in history. His death at the age of 70 left an undeniable void in terms of worldwide exposure of classical music which has not since been filled. Through never-before-seen footage, concert performances and intimate interviews, this evocative documentary laments an astonishing singer as well as the robust music industry of his time.

Howard pays homage to the late star, casting a warm and informative light on his life and career with a light-hearted joy, romance, sadness and hope that will make you fall in love with Pavarotti all over again. "

The Lavazza Italian Film Festival is on in Perth till the 23 October. Catch it at Palace Cinema Paradiso.

If you enjoyed this article, please share it!


To find out about the hottest events around Perth, follow us at @PerthWalkabout